Technology
Chrysler postpones Cherokee media preview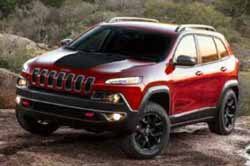 Chrysler announced on Monday it will be temporarily cancelling next week's media preview of the 2014 Jeep Grand Cherokee, citing an electronic issue that controls the engine along with an industry first nine speed transmission.
The news came the day before the company released second quarter profits of $507 million for the first six months of this year.
"Over the last couple of weeks during final quality and durability testing, we have discovered the opportunity to further improve powertrain calibration in the Jeep Cherokee," Chrysler said in a statement announcing the postponement of the meeting. "We will introduce the vehicle to media and consumers as soon as that process is complete."
The news came as more than 200 reporters and analysts were planning to arrive for a program in Seattle this Sunday where they would be able to drive the new Cherokee, which is expected to be one of the company's most important products of the year.
The launch of the new Grand Cherokee has been closely monitored by members of the media and dealers due to the company taking longer to begin assembling the vehicles in Toledo, Ohio than originally planned. The delay is even more significant in view of the company's release of the Dodge Dart compact sedan last year that failed to meet the expectations of CEO Sergio Marchionne.
The production of the Cherokee began on June 24 after being delayed for a month. The company has so far declined to say if the delay was related to either the engine or the transmission.
In May, Chrysler Senior Vice President of Engineering Mark Chernoby told the Free Press that the company was still ironing out some kinks with a number of issues involving the Cherokee including difficulties with the performance of its new nine speed transmission which is produced in Kokomo, Ind.
Earlier this month Chrysler reported the Toledo plant was producing over 150 Cherokees a day, which was less than 15% of what it needed to meet its goal of 275,000 produced annually. When the plant is at full capacity, Chrysler expects to produce over 1,000 vehicles per day for the vehicle which is expected to be sold in 150 countries.
The company has said despite the setbacks they still expect to begin shipping the new Cherokees to dealers by September.
"While the media drive timing has changed, production continues and the vehicles will be in showrooms in September," the company said in its statement.