Technology
Cases for the New Nexus 7 Surface in the Market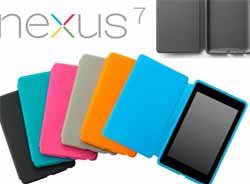 Don't be surprised to discover that many accessory makers are now offering and selling new cases for the new Nexus 7, which was just launched by Google Inc. There are not too many cases for the new device that are available today but the number is expected to increase in the next several weeks.
Sleeve-style cases that were previously released for the original Nexus 7 are expected to fit the new tablet model perfectly. However, the two tablets are different products. Thus, the new Nexus 7 might not fit right into cases designed for its predecessor.
Consumers may still prefer to use universal cases, which have elastic straps at the corner so that those accessories could be used for just about any standard 7-inch tablet PC. Don't be surprised to see such products that could be used for iPad Mini, Nook HD, and Kindle Fire. Those could even fit for the new Nexus 7. M-Edge and Stealth are among the popular brands for universal folio cases.
For meticulous device enthusiasts out there, there are special cases that are specifically designed for the new Google tablet. Here are two of the most recommended in the market.
WaterField Designs
WaterField Designs has announced four new custom-fitted cases specifically for the recently unveiled Google Nexus 7. Each new case features unique functionality, improved protection, and outstanding style. Those products are called Ultimate SleeveCase, Slip Case, Suede Jacket, and Travel Express. Each model has its own distinction to bring about unique personality and identity to the device.
The accessories maker has already started selling these new cases. The Suede Jacket costs $19 and Slip Case can be purchased at $29. Both the Ultimate SleeveCase and Travel Express cost $59.
Dodocase new products
Best known for its bookbound-looking device cases, Dodocase has announced its own line of new cases that are specifically designed and manufactured for the new Nexus 7. The company is trying to send the message across that it would always come up with new lines to cater to anticipating consumers of specific devices.
Dodocase has just updated its whole line of modern accessories that offer protection for the new and upcoming Google tablet. The San Francisco-based firm asserts that its products are specially handcrafted, making those more durable as well as more stylish. Among the options available from the line are sturdy hardcover cases and waxed canvas sleeves.