Politics
California Gov. allows non-physician abortions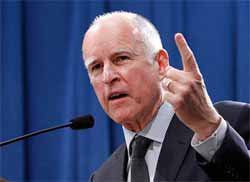 In a move that critics have said jeopardizes women's safety, California Gov. Jerry Brown signed a bill that will allow non-doctors to conduct abortions on women.
The bill Brown signed was introduced by state Sen. Christine Kehoe, and allows physician assistants, nurse practitioners and midwives to perform chemical aspiration abortions.
Kehoe has said the reason she introduced the bill was to give greater access to abortion for women, particularly those in rural areas.
The American Civil Liberties Union of California, a co-sponsor of the bill say it does not expand or change the scope of practice for these clinicians, but it allows them to "maximize their existing skill set." The bill also has several radical pro-abortion supporters including NARAL and Planned Parenthood which was founded by eugenicist Margaret Sanger and is the nation's largest abortion provider.
Jennifer Popick, legal counsel with the National Right to Life Committee says an attempt in California to permit nurse practitioners and midwives to perform abortions is not confined to the Golden State and the idea is popping up in other states.
Popick reports the concept is popping up in other states at the mass of abortion activists.
"'Those who promote abortion sort of have this two-tiered approach. They say abortion's something between and woman and her doctor and we want to keep it safe, rare, and legal. Quite frankly, they're working very hard to take the doctors out of the picture,' Popick contends. 'It's sort of just rhetoric masking that they want abortion on demand, and it's absolutely something that doesn't protect women.'"
As ultrasound technology has improved and medical advances help premature babies to live who previously would have died, a shift has developed where there is a shortage of doctors wanting to perform the procedure. In five states there is only a single abortion facility within their borders.
This has promoted pro-abortion advocates to push for requiring abortion training.
Last year, Vanderbilt University initiated a policy requiring all nursing students to sign a pledge that they would participate in abortions as a requirement of being in the program. Following coverage of the issue by WND, the university quickly rescinded the requirement.
Nurses at the University of Medicine and Dentistry of New Jersey were told they would be required to undergo abortion training as a condition of their employment and assist with the procedure regardless of conscience issues.
Popick says that because abortion is an invasive procedure, the absence of a doctor could threaten the life of a woman if and when complications arise.