Technology
Blizzard's Hearthstone hits over 20 million players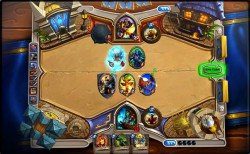 Blizzard Entertainment might still be most well-known for World of Warcraft, but it has a new IP taking the gaming industry by storm, namely Hearthstone: Heroes of Warcraft, a new card game based on the characters of World of Warcraft.
Today, Blizzard hit 20 million active players on Hearthstone. This is pretty big for a card game only available on PC and mobile platforms.
Hearthstone has been available since January 2014. It hit 10 million players in March of this year, and it has taken a little longer to hit 20 million. Still, this puts Hearthstone on point to hit 40 million active players by the second half of 2015 if it continues to grow.
We still do not know how many downloads came from the mobile side and how many came from the PC side. The free-to-play model is definitely working for Blizzard in terms of downloads, but we didn't get any information on revenue made from the game's in-game economy.
The Curse of Naxxramas has brought players back who might have given up on Hearthstone. Adding new cards and a single-player mode to the game brought a lot of variety to the game, and there will be more in the next few months.
Blizzard is also working on the eSports side of Hearthstone, as it is offering up a $100,000 prize fund at BlizzCon 2014.
This is excellent for Blizzard, who is coming down from month-on-month subscription losses on World of Warcraft.