Business
As Questions Remain, Tesla (NASDAQ:TSLA) Announces Quarterly Sales Record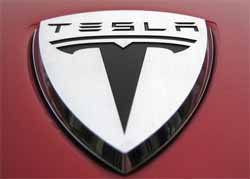 NEW YORK – Electric car maker Tesla (NASDAQ:TSLA) reported over the weekend that sales of the Model S reached a new record for the third quarter. The announcement positions the company to come close to their target of increasing sales this year by more than 50 percent.
Speculation has surrounded Tesla in recent weeks, as Toyota Motor Company (NYSE:TM), Daimler (DE: DAI), and Panasonic (TYO:6752) sold off most of their shares in the electric automaker. However, the announcement of a record quarter, should put analysts at ease over the company's growth plans.
According to data compiled by Bloomberg, Tesla sold 7,892 Model S sedans in the third quarter; an increase of 43 percent over the same period last year. The company had forecasted they would sell 7,800 Model S sedans. Despite the record setting sales, analysts expect that earnings per share for the third quarter will fall from 12 cents a year ago to zero.
Tesla Chief Executive Office, Elon Musk, had previously announced that the company would increase sales by 50 percent or more in the third quarter on the back of expansion in Asia and Europe. Furthermore, the company recently announced the release of an all-wheel drive Model S and new leasing terms that would reduce consumer payments by 25 percent – both of which are expected to bolster sales in the northeastern United States.
According to Alan Baum of Baum and Associates, 'I think that Tesla is diversifying in their markets as well as serving more markets with more versions of the cars.' Mr. Baum added 'the fact that they were down in July and August was designed to improve that production going forward. Tesla must improve its supply to be able to sell more vehicles, and that production downtime was part of that.'
In September, Mr. Musk tweeted that sales of Model S sedans increased by 65 percent in North America over the previous year and that he expected the company to reach 'record high' sales globally. Based on the recent announcement as well as the assumption that sales in Asia increase from current levels, Brian Johnson of Barclays noted that Tesla's sales target is becoming 'more achievable.'
It is believed that Mr. Musk's tweet was aimed at analysts who felt that Tesla might not be able to achieve their sales targets. Even with the record quarter the target will be difficult as the company will need to sell about 13,000 cars in the fourth quarter.
Furthermore, the company is still not at a level where they are profitable. According to Mr. Johnson, if worldwide sales where to reach 8,800 Tesla would have earned 25 cents per share – . However, that would require another record quarter.
Whilst shares of Tesla are up almost 60 percent year-to-date, the uneven profitability, and the exit of industrial investors remains a question mark for several analysts. With the news, the odds of a sell-off to lock in profits becomes more likely.