Technology
Apple Sends Out Invites For The September 7 iPhone Event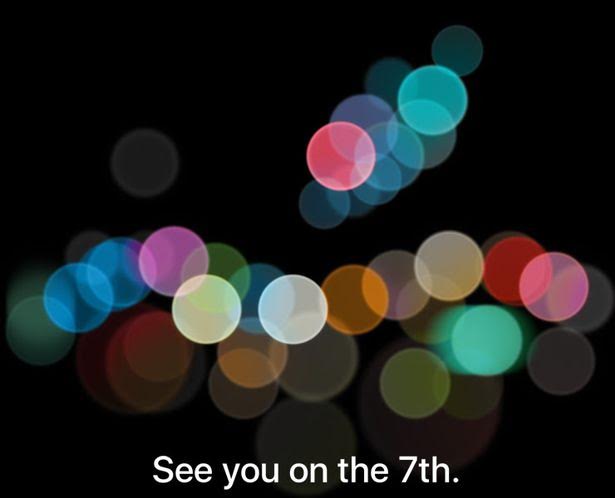 Apple has confirmed a new launch event on September 7 at 10AM at the Bill Graham Civic Auditorium in San Francisco. The company started sending out invites for the event yesterday. Usually, Apple likes to tease a few features of the upcoming product in its invitations, however, this time around; it's relatively simple and gives out very little about the new product.
The invite comes with the tagline, "See you on the 7th" which confirms the date; however, there are no other words present. As for the picture, it reveals a few translucent colored dots, which could mean a number of different things.
First of all, Apple could be hinting that there could be new color options for the iPhone 7. See you on the 7th kind of hint the name of the new generation model. There have been a few rumors going around the internet which state that the iPhone 7 could come with new color options such as blue. However, it is yet to be confirmed by the company.
Another possibility is the amazing camera feature of the device. The colored dots could also be the indicator of a bokeh like effect, which is traditionally harder to reproduce using regular smartphone cameras. Dual cameras seem to help in this effect, so these bokeh like reproductions could be an indication of a dual camera setup on the upcoming iPhone 7 Plus. Several leaked prototypes have already confirmed the presence of such a setup on the new device, so it won't be surprising.
Another possibility is waterproofing. If fans were to consider these dots as zoomed in water droplets, then this teaser image could be considered to hint that the new iPhone 7 models will be waterproof. However, rumors haven't been very clear about this particular feature.
While the teaser leaves everyone to guess what could be the new features of the iPhone, there is another major change that one can expect on the upcoming device. It is said that Apple could be scrapping the traditional 3.5mm headphone jack from the iPhone in favor of a lightning port. This would mean that users will have to resort to adapters or Bluetooth enabled headphones to connect to the new device.
Apart from this, another change that is almost confirmed is the redesigned antenna bands on the iPhone 7. All the leaks that have been coming out in the past few months come with redesigned antenna bands.
September 7th isn't very far, which means all the details about the iPhone 7 will be confirmed very soon.