Technology
Apple Announces New Macbook Pro Laptops Featuring Specs Upgrade & A Unique Touch Bar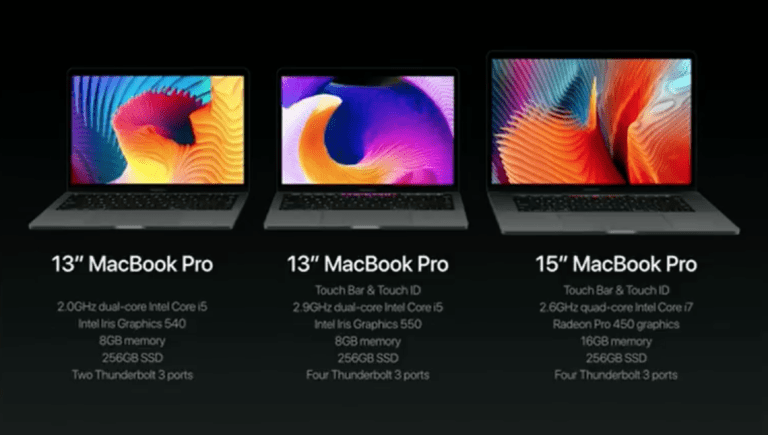 Apple announced three new models in the Macbook Pro range yesterday and there are some interesting features seen on the newly announced devices.
First of all, the company for some reason, decided not to update the existing Macbook Air lineup. Even iMac and Mac Minis are untouched, which means the sole focus of yesterday's conference was none other than the Macbook Pro. The three new models come with memory additions, new features as well as lighter body, as compared to the previous generation models.
One of the biggest highlights of the new Macbook Pro lineup is the Touch Bar on top of the keyboard. This feature has been in the rumors for the past few months, and turns out it's real and works pretty well. The touch bar will adapt to the program currently being used, provided it supports this feature. So, the Safari browser can take advantage of this touch screen bar on top, but Chrome may not support it yet. There also this interesting feature wherein the touch bar will provide autocomplete suggestions, similar to the feature seen on smartphone keyboards.
In terms of design, the new Macbook Pro lineup is 4mm thinner than its previous generation model and weighs half a pound less. The larger 15-inch model weighs just under four pounds. With the entry of the Touch Pad, the physical escape key is no longer available on these devices.
Another interesting feature on the new Apple Macbook Pro laptops is Touch ID. The fingerprint sensor is located right over the power button, which eliminates the need for passwords while turning on the laptop. Also, Touch ID will be used for making Apple pay purchases online.
As for the hardware, the new 13-inch laptop is upgraded with the 6th generation Core i7 processors with Radeon graphics and SSD storage up to 1TB. As for the larger 15-inch Macbook Pro sibling, it features Core i5 or Core i7 processor options with 16GB of RAM upgrade.
The new Macbook comes with four thunderbolt ports, which also marks the exit of the popular Magsafe charging port. Any of the thunderbolt ports can be used to charge the device.
If any user is not a big fan of the new Touch bar on top, there is a Macbook Pro version with specs upgrade but with traditional function keys on top. However, even this model does not feature the Magsafe charging port. Also, there are just two thunderbolt ports on this model.
The basic 13-inch variant without the Touch Bar starts at $1500, the one with Touch Bar starts at $1800 and the larger 15-inch model starts at $2400.