Technology
Apple announces iPhone 6, Apple Watch and Apple Pay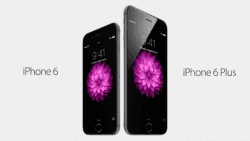 The iPhone 6 and iPhone 6 Plus were the first announcements today. The iPhone 6 has an updated 1334×750 display, while the iPhone 6 plus rocks a 1920×1080 display, one of the many small improvements on the iPhone 6 Plus.
Internally, both are rocking the A8 and M8 chip with 20 percent faster CPU performance and 50 percent faster GPU performance respectively. The M8 has new fitness and sensor tracking features for the new Health and Passbook apps coming to iOS8.
Sticking with the internals, the iPhone 6 has 20 bands of LTE, WiFi ac, and NFC for mobile payments. Apple introduced a new feature called WiFi Call, allowing cellular calls over WiFi – this is limited to T-Mobile in the USA, for now.
The new 8MP iSight camera has an updated sensor to get clearer images and offers a new Burst Mode alongside 240fps slow-mo video.
The iPhone 6 will be available for $199, $299 or $399, depending on the storage size you choose (16GB, 64GB, 128GB). The iPhone 6 Plus will start at $299.
Apple Watch
Apple's second biggest announcement is Apple Watch. The new watch has some big improvements over the devices rolling out running Android Wear; including a new digital crown, a huge step in interface design on wearables.
The digital crown works as a pinch-and-zoom on the Apple Watch and pushing the crown will take the user back to the home screen. Apple has added another dedicated button for calling and added a whole new suite of apps for the wearable device.
Inside the Apple Watch sits a haptic sensor and the S1 chip that stores all of the specifications to make the smartwatch run. On the back, Apple has added four sensors.
The Apple Watch will come in two sizes, three "editions," and will come with six straps, including one in leather, two sport, two metal and one 18 karat gold. The Apple Watch will start at $349 and sales will begin in early 2015.