Business
Amazon (NASDAQ:AMZN) Ends Dispute with Book Publisher Hachette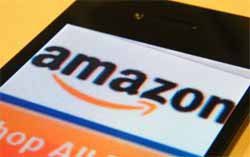 NEW YORK – Amazon (NASDAQ:AMZN) and publisher Hachette announced on Thursday that their long-running dispute had been resolved as the companies reached an agreement over online and eBook sales. The dispute had been running since early-May when Amazon refused to give Hachette price control over the company's eBooks on Amazon's sites.
Hachette criticized Amazon for 'aggressive' negotiating tactics which included barring Amazon customers from pre-ordering Hachette's new releases, reducing discounts on Hachette books, and even delaying the shipment of books ordered online for up to one month. The publisher claimed this massively impacted revenues.
Under the terms of the agreement, Amazon will grant Hachette responsibility for setting retail prices for their eBooks and will also receive better terms when they deliver lower prices for readers. The agreement also ensures that Amazon will resume promotion of Hachette's books.
In a release, Amazon noted the deal included 'specific financial incentives for Hachette to deliver lower prices, which we believe will be a great win for readers and authors alike.'
Hachette Book Group Chief Executive Officer, Michael Pietsch, commented 'this is great news for writers. The new agreement will benefit Hachette authors for years to come. It gives Hachette enormous marketing capability with one of our most important bookselling partners.'
Authors such as Donna Tartt, Salman Rushdie, John Grisham, and Stephen King, who signed a petition demanding Amazon stop using them as hostages in its negotiations. The group called Authors United, also took out a full-page advertisement in The New York Times.
According analysts, the agreement gives Amazon and publishers an opportunity to determine how the trend toward eBooks is affecting the overall market. It is believed that this will be beneficial to consumers as it will ensure that they will continue to be able to access the works of their favorite authors. Sources noted that the agreement is similar to the one struck between Amazon and Simon & Schuster two weeks ago.
These deals should halt any momentum towards filing a class action suit against Amazon. Such a suit would have significantly disrupted Amazon's cash flow as the company relies on book sales (almost $ 4 billion in revenue last year, $ 300 million from e-books) to maintain their razor-thin margins.
Shares of Amazon were up slightly in pre-market trading at $ 316.48.