Companies
Amazing Earnings for Bank of America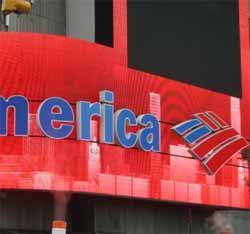 Bank of America's second-quarter profits beat the predictions of the analysts. Cost-cutting helped the profits show profits increase as much as 70 percent over last year's earnings. The bank earned $3.6 billion in the quarter, which was after preferred shareholder payments. For the same time period a year ago, the earnings total was $2.1 billion.
Bank earnings have been highly anticipated by investors and advisors alike in the recent days. Many say bank earnings can be a direct indicator of the economic outlook.
Remarkable Increase
That is a remarkable increase in the banking industry, which has been scrutinized and faced woes for mortgage troubles in recent years. For many analysts a 70 percent increase would have not even been dreamed of just a year ago.
When you are looking at the rate per share, it breaks down to 32 cents. Most analysts were expecting profits in the range of 25 cents per share, so the seven-cents per share difference is very significant in the investment world.
Changes that Helped the Bank
Based in Charlotte, N.C., Bank of America has undergone extensive changes since 2010, when CEO Brian Moynihan took over the helm. He came up with a strategy that was designed to make bank management easier and escape regulator scrutiny. The end result was cutting job and slimming operations. During the second quarter alone, bank expenses were slashed around six-percent, dropping from $17 billion to $16 billion.
Shrinking the unit that services troubled mortgages, the bank cut 18,300 jobs during the last year, which is nearly seven-percent of staff. In addition, the bank cut back on litigation expenses, after settling several high-profile lawsuits that were related to its mortgage unit.
Earnings Break Down
The highest earnings for the bank came from its investment banking and wealth management units. Funding about $27 billion in home equity loans and mortgages, that division saw a 42 percent jump from the same time period a year ago.
After removing one-time charges, the total revenue fell into place at $22.9 billion, a three-percent increase from a year ago. Analysts expected it to be at $22.8 billion.
Stock rose almost one-percent in pre-market trading, settling at $14.04, which was an increase of 12 cents. As other large bank release their quarterly reports, banking industry stocks are among those to watch, according to experts. Many banks are expected to report significantly higher earnings than last year.