Technology
Activision and Bungie made $325 million on Destiny sales within five days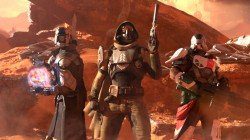 Bungie and Activision's newest title Destiny has been a big success in the early stages. In five days of sales, Destiny has managed to bring in $325 million in revenue.
Eric Hirshberg, CEO of Activision Publishing, said in a statement "Destiny players have engaged in more than 100 million hours of gameplay" in the opening five days; on track with Call of Duty engagement sizes, which Hirshberg claims is an "industry leader."
Hirshberg went onto say that this is just the start for Destiny, and the "platform will grow and evolve" as their partners Bungie add more features into the game. This sounds promising, and we have heard from several Bungie execs that it will only get better.
Hopefully this is true, as the first raid has already been completed by a few teams and it looks like with the right friends, it can take less than a day to fully complete.
Activision and Bungie signed a ten year contract for Destiny, and we expect that huge DLC packages will be coming in the next few years. World of Warcraft has lasted over ten years and continues to have a thriving player base; we expect Activision is shooting for that goal on console.