US
4th Person Dies From Mad Cow Disease; CDC Reports No Infected Cows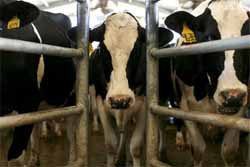 A fourth person has died from eating beef infected with mad cow disease, but according to the Center for Disease Control, the beef may not have been from the United States.
The patient, who died in May, had developed Variant Creutzfeldt-Jakob Disease, a condition that attacks the nervous system and eventually leads to death. Variant Creutzfeldt-Jakob Disease is directly linked to bovine spongiform encephalopathy, also known as mad cow disease.
While variant CJD develops from cattle that have been infected with mad cow disease, it is not transmitted between humans. The CDC confirms that humans are not at risk for spreading the disease. On their website they state, "Although experience with this new disease is limited, evidence to date indicates that there has never been a case of vCJD transmitted through direct contact of one person with another."
While this is the fourth death in the United States from eating cattle infected with mad cow disease, there have been no reports of mad cow since 2012. All four of the victims had traveled out of the United States prior to their death. The CDC believes that they all consumed infected cattle overseas.
Kathy Simmons, a veterinarian with the National Cattlemen's Beef Association agrees saying, "There have been no documented cases of vCJD associated directly with beef consumption in the United States."
The U.S. Department of Agriculture regularly tests the US beef supply for mad cow disease, but many groups do not feel that the tests are enough. One such person is Michael Hansen of Consumer Union, who has been quoted as saying the current "safeguards against BSE are not adequate" and encouraged the FDA to do more.
Mad Cow disease affects the brain and spinal cord of cattle. The protein causing the disease is believed to only exist in nervous system tissue. Humans are put at risk for it when they consume beef products of an infected animal that include central nervous system tissue. Therefore, USDA guidelines require that the brain and spinal tissue of cattle that are at risk for mad cow disease be removed from the food supply.