Markets
Yelp (NYSE:YELP) Posted Profits for the First Time
On July 30, Yelp Inc (NYSE:YELP) YELP +0.56% announced its second quarter earnings, where the company posted $2.7 million in net profit, its first profit since becoming a public company. The $2.7 million in profit came from total revenue of around $88.8 million, with an earnings per share of $0.04.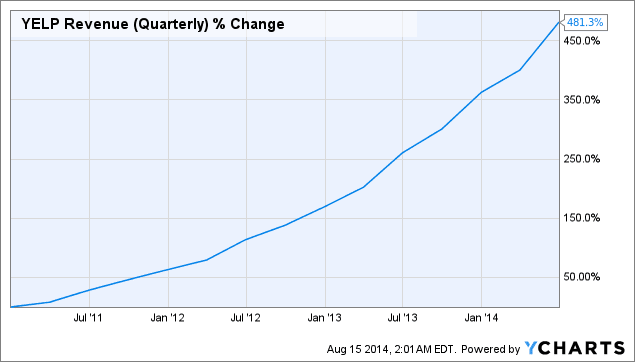 Yelp is in the business of connecting people. It connects consumers to local businesses where users can post their reviews about traditional brick-and-mortar businesses around the world. Until now, around 61 million reviews have been generated by Yelp users in over 27 countries.
Over the past five years, Yelp Inc (NYSE:YELP) has been growing its revenue at a phenomenal rate. Compared to only $15 million revenue in early 2011, it has managed to generate $88.79 million in revenue in the second quarter of 2014, representing a 481.3 percent growth within the span of only a few years.
The bulk of Yelp's revenue comes from advertising by local businesses as well as some brand advertising from bigger companies who wants to promote their products and services to Yelp's 140 million monthly visitors. Yelp also offers some paid services, but revenue from those channels is limited. Yelp is also experiencing huge boom in mobile traffic. Its monthly mobile visitors number has grown 51 percent on a year over year basis to 68 million, indicating further monetization opportunities for the company from this channel.
Since going public, Yelp's market capitalization has increased by as much as 350 percent in January 2014, and it is currently hovering around $5.39 billion, representing growth of 266.8 percent. Such high growth was achieved partly because of the mastermind behind Yelp, its CEO Jeremy Stoppelman.
Jeremy Stoppelman recently talked to the Associated Press and said that "Yelp is my baby," when responding to a question about his decision not to sell the company to search engine giant Google (NASDAQ:GOOG) GOOG +1.03%.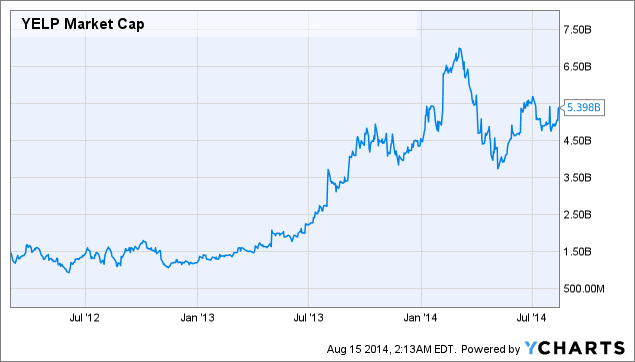 During the second quarter earnings release, Yelp also provided investors with a strong guidance on the third quarter's revenue, which is set at around $99 million. With such impressive growth momentum, the market seems to be confident that Yelp management will be able to deliver this 11.5 percent sales growth in three months time.