Politics
White House comments on stunning Cantor defeat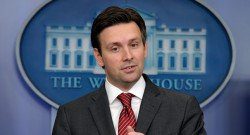 The White House took the time on Wednesday to blame Eric Cantor's primary defeat on the Republican Party's supposed inaction on Capitol Hill. Many political experts and pundits alike have been dissecting the shocking turn of events on Tuesday, and the White House has jumped in with its own theory.
"I do think that this outcome does provide some evidence to indicate that the strategy of opposing nearly everything and supporting hardly anything is not just a bad strategy, it is not a very good political strategy, either," said Obama spokesman Josh Earnest said in a media briefing aboard Air Force One.
Economics professor David Brat upset House Majority Leader Eric Cantor on Tuesday night, and his victory means that there will be a new opening for the second most powerful congressional title to hold.
Cantor is expected to leave his post as Majority Leader in late July, and there is expected to be a mad scramble for his leadership post.
The Washington Examiner reports "Many believe that Cantor's loss destroyed any prospect of the House passing immigration reform this year, as the Virginia lawmaker paid a heavy political price for supporting a GOP version of the Dream Act for young illegal immigrants."
Immigration reform has proven to be a political third rail for politicians from more conservative districts.
The White House did make the claim that Cantor's loss would have little to no effect on Congress' ability to reach a compromise on immigration reform in the coming months.
"Majority Leader Cantor campaigned very aggressively against commonsense, bipartisan immigration reform but yet in the analysis there are some who suggest that his election was a key to getting immigration reform done. I am not quite sure how people have reached that conclusion. It is the view of the White House that there is support all across the country for commonsense bipartisan immigration reform," continued Earnest.
Earnest then pointed to Senator Lindsey Graham, who easily won his primary challenge on Tuesday even though he supports immigration reform.
There exists mixed messaging from political analysts as to why Cantor lost his primary fight. Some are saying that Cantor lost because of his lax views on immigration, while others, such as White House spokesman Earnest, claim that he lost because he was too conservative on the issue and proved to be difficult to work with in general.