Technology
Ubisoft announces Far Cry 4, AC Unity, Rainbow Six: Siege, and more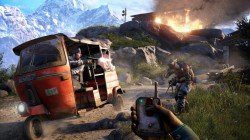 Ubisoft has had a pretty impressive E3 2014, as its two big annual franchises, Far Cry 4 and Assassins Creed Unity, looks pretty decent, and the studio got a lot of props for its new Rainbow Six: Siege and Valiant Hearts: The Great War previews.
The day kicked off with Far Cry 4, bringing with it a new plot, new area, new protagonist, new antagonist, and new features. Moving through the peaks of mountains to the wetland with a glider in two minutes, the demo showed how to get around the map easily and potential escape ambushes. Pagan Min, the antagonist, seems like a weird and wacky character, similar to Vaas in Far Cry 3.
The Crew was the next big announcement. The Crew will be a full coast-to-coast U.S. driving experience with friends, allowing players to travel from state to state in a shared world epic.
Assassins Creed: Unity was next on the list, a game that is part of a big push by Ubisoft to keep the AC series relevant. Unity provides four new French characters in the game, and they are all Assassins trying to kickstart the revolution.
Shape Up and Valiant Hearts were shown off. Shape Up is a fitness Kinect-style game, and Valiant Hearts is a new adventure puzzle game built on Ubiart.
The last game to be announced at Ubisoft's E3 conference was Tom Clancy's Rainbow Six: Siege. This was not expected, and even though Ubisoft said it was "pre-alpha" footage, it looked pretty well made, with destructible environments and different types of strategy.
No word on when this will be available, but it looks like some sort of multiplayer shooter with more of a focus on objective control. In the preview it showed one team trying to extract the hostage while the other tries to contain her.