Business
U.S. Card Issuers Begin Adopting Credit Card Chip Technology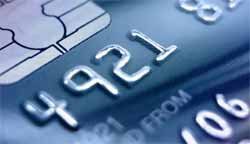 The Target data hack over the Christmas shopping season seems to have startled the U.S. retail sector into rushing to catch up with European countries in terms of credit card security. Most cards in the United States use a magnetic stripe that is swiped, which presents a security flaw that was exploited at Target, Neiman Marcus, and other retailers.
In the coming years, credit cards will be replaced with smart chip security, which is already in use in Kenya, the U.K, and most of the industrialized world. Microchip cards, also called EMV cards, are encrypted, which reduces the risk of fraud and counterfeit.
"Fraud is rising too quickly not to make progress," said Mallory Duncan, general counsel for the National Retail Federation. "Banks are going to do the right thing. The risk has gone up."
Virginia Credit Union recently announced that it will begin sending out MasterCard credit cards embedded with microchips for additional security.
"Our plans have been underway since last summer to reissue cards," said Deb Wreden, senior vice president of product and delivery strategy, adding that the decision was not the result of security compromises at retailers.
The cards will come with new account numbers and security codes for customers, along with magnetic stripes, as most U.S. businesses do not have chip card readers.
Bank of America has offered microchip cards on some of its consumer credit cards since 2012, and it has upgraded most cards for its customers who travel outside of the U.S. This month, JPMorgan Chase announced it will begin issuing chip-and-PIN cards later this year.
Visa and MasterCard have also introduced efforts to encourage merchants to accept EMV cards in the U.S., as well as moves to persuade ATM owners to upgrade the machines to accept the cards.
Magnetic stripes are outdated and the U.S. has been one of the last countries to move to microchips. Most countries in Asia and Europe began using chips more than ten years ago. When a chip card is inserted into a terminal, the card and terminal provide another level of security.
While chip technology is more effective at stopping fraud and counterfeit, it is not a cure-all solution. Online fraud, for example, has increased in countries that moved to EMV chip technology as in-store fraud has fallen.
David Marcus, the president of PayPal, even had his chip-equipped credit card cloned during a recent trip to the United Kingdom, and he suspects it was compromised through a skimmer at a hotel.