Markets
TW Telecom Doubled Its Network in Colorado Springs Area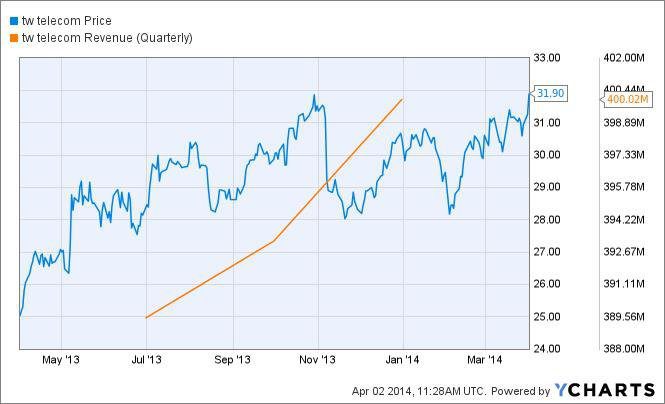 TW Telecom Inc (NASDAQ:TWTC) TWTC provides managed network service such as business Ethernet, data networking, virtual private networks (VPN), as well as internet access and voice services in 75 metropolitan markets in the United States. This third-largest provider of Business Ethernet service in the US recently invested heavily to expand its network reach near the Colorado Springs are in Denver. This expansion is part of TW's multi-market effort to expand its metro fiber footprint approximately 17 percent across the country.
The expansion nearly doubled its network reach in the area, where it currently serves hundreds of Colorado Springs business customers, including government, defense, K-12 school districts, healthcare and IT operations. TW Telecom's Colorado Springs branch manager, Brandon Nelson, commented on this strategic move as "As a result of strong growth here in the area, this network extension is driven by new and existing customer demand.  We look forward to leveraging this network expansion to provide Colorado Springs enterprises with secure, scalable and predictable network connections that deliver better, faster and easier solutions to move their businesses forward."
TW Telecom's (NASDAQ:TWTC) TWTC growth strategy played out well since last year, as its revenue increased from around US$ 389.56 million in Q2'13 to around US$ 400.02 million in Q4'13, representing a 2.69% increase within two quarters. During the same time, its market capitalization increased by 13.93%, as TW Telecom's stock price climbed from US$ 28 per share during June 2013, and currently trading at US$ 31.90 per share, as of today.
Meanwhile, since October 2013, TW Telecom's (NASDAQ:TWTC) TWTC EBITDA increased from US$ 47 million per quarter to US$ 52.56 million, representing an increase of 11.83%. However, its EBITDA margin grew to 13.14% during the same time period. Since EBITDA excludes depreciation and amortization, EBITDA margins offer a better view of the company's core profitability; where TW Telecom did better.
The broader network expansion plan will aid TW Telecom in entering "five new high demand geographic segments; Boston, Cleveland, Philadelphia, Richmond, Va. and Salt Lake City," says the company in a press release. Meanwhile, TW Telecom is also hiring more sales and support employees as well as additional operations personnel to support this project.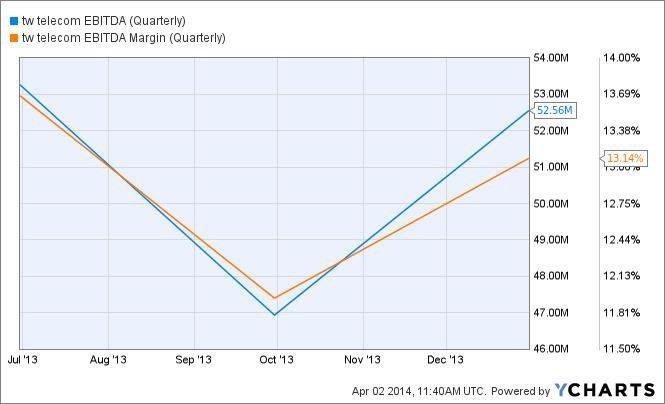 As these network expansion plans are being driven by "customer demand," the growth prospect for TW Telecom is tangible. Its stock is currently trading with a P/E ratio (TTM) of 133.18, making it "expensive" compared to industry competitors such as AT&T (NYSE:T) and Verizon (NYSE:VZ).  However, growth investors should keep in mind that TW Telecom is a tiny company compared to its nationwide mature competitors, and it's got a lot of upside potential based on growth prospects.