Technology
Syrian Electronic Army Hacks Forbes Website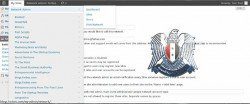 The Syrian Electronic Army has hacked another big name website. This time they gained access to Forbes', one of America's biggest business magazines, website Forbes.com. The Syrian Electronic Army gained access and published a database containing more than one million user names and sign-in credentials from Forbes.com.
On the Syrian Electronic Army Twitter account, the group posted a picture of what looks like the Forbes.com CMS (content management system), along with the statement "Forbes.com hacked by the Syrian Electronic Army #SEA."
The SEA also somewhat defaced the Forbes website by changing the text of some of the website's articles, as well as publishing their own
article with the statement "Hacked by the Syrian Electronic Army."
Forbes has confirmed the breach on their Facebook account, stating "Forbes.com was targeted in a digital attack and our publishing platform was compromised," Forbes added that the email address of anyone registered on their website has been exposed, and warns of possible phishing attacks following the hack. They did assure users that the passwords attached to the accounts were encrypted, but encouraged users to change their passwords once Forbes has restored its website.
Forbes did not confirm how many accounts were compromised and whether or not the Syrian Electronic Army was responsible for the attack, but as previously mentioned, the Syrian Electronic Army published the information of over one million Forbes.com accounts. In a post on the group's Twitter account, it advises Forbes.com account owners to change their passwords.
The SEA cited, in an e-mail to IBTimes UK, that they attacked Forbes.com because of the company's "very clear and flagrant hate for Syria." The group has also hinted that they were able to hack into the Forbes.com website thanks to one of the Forbes' Social Media Editors, Alex Knapp, but didn't divulge more information on the matter.
The Forbes.com homepage seems to be back to normal, and the site has already allowed users to sign-in again, but the website's blog page is still down. Forbes has not made any further statements other than the aforementioned posts on their Facebook and Twitter accounts, and has since started publishing new articles on its website.
The Forbes.com website is only one of a string of attacks the Syrian Electronic Army attempted in recent weeks. They were also able to hack Microsoft, more than a dozen Saudi Arabian Government websites, PayPal UK, eBay UK, and were almost able to hack Facebook.
Photo Source:https://twitter.com/Official_SEA16/status/434252085597466624