Technology
SwiftKey 5 free on Android, offers paid themes for monetization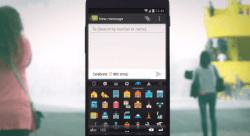 SwiftKey, the most popular paid app on the Google Play Store, has announced it will be going free from now on. The SwiftKey 5 update brings the free model to Android. Deciding against the $3.99 paid price, the update brings a few new features to the table for fans of the third party keyboard.
We are not sure why SwiftKey 5 decided to go away from the paid model. Perhaps as they prepare to launch on iOS8, they want a big welcome. It might also be because paid users have dried up and the company wants to find other monetization methods for its users.
Either way, the new free app will be sure to attract millions of new users to SwiftKey 5. The free app isn't the only change, as theme packs are now available and these will be the primary tools for monetization on SwiftKey from now on, selling the themes at $0.99 per theme or five packs for $2.99.
Emoji is another popular feature coming to SwiftKey 5 and will be available for all users running Android 4.1 and above. Around 80 percent of all Android users are now running Jelly Bean 4.1 and above. A dedicated numbers row is available on the new keyboard.
SwiftKey already has a lengthy feature list to compete against any keyboard. The predictive text and swipe make typing sentences easy. SwiftKey Cloud allows users to connect all their devices to sync predictions and keystrokes with any device.
The keyboard also connects with Facebook, Twitter, and Google to understand conversation style better. It has already been enough to make millions buy the app, and now that it is free, we bet millions more will download it, especially on iOS8 in the next few months.
Selling themes might not be the most sustainable business, but SwiftKey have obviously gone over the potential income from a $3.99 download compared to the possibilities of 10 paid theme apps for every user and came to the conclusion that the latter will make more in the long run.