Business
SUV Sales Rise in October Thanks to Lower Gas Prices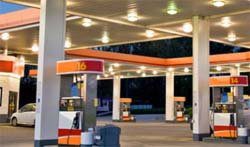 Lower gas prices have boosted sales of trucks and SUVs in October. GM, Chrysler, Volkswagen, Honda, Nissan and Toyota all reported improved sales last month.
Ford was the only manufacturer to report sales dropping 2% as it cut back on F-Series pickup sales to launch the new F-150 in 2014. This was better than the 4.3% decline expected by analysts. Ford's mainstay SUVs, the Explorer and compact Escape, posted their best October sales in years, with Escape sales rising 12% while Explorer sales increased 6%.
Both Ford and Chrysler sales beat estimates. Analysts predicted industry sales to increase 6% over last year.
The national average price for gasoline dropped 33 cents, ending October at $3 a gallon, AAA said. Gasoline is at the cheapest price in four years, which has helped strenghten the trend toward trucks and SUVs.
Aging car fleets and low interest rates have also improved demand for new vehicles. While analysts have watched incentive levels, the industry is showing that current sales prices reflect strength.
Edmunds and Kelley Blue Book expect October's seasonally adjusted annual rate to reach 16.3 million vehicles, up from 15.38 million one year ago. September's sales pace was slightly higher.
"Utility vehicles, especially small and mid-size, are the story once again, as consumers are buying more and willing to pay more for these models," said Alec Gutierrez, a Kelley Blue Boo analyst. "With gas prices at a three-year low and with consumer confidence at a seven-year high, this trend should continue."
Fuel economy is no longer the top priority for most car buyers, a recent survey by J.D. Power and Associates found. In 2013, it was the number three priority on a list of reasons people buy vehicles, although it has fallen to number six this year behind reliability, style, brand, ride and handling, reputation and price.
GM, the country's top seller of trucks and cars, missed expectations, with Kelley Blue Book and Edmunds forecasting gains of 4.2% and 2.1%. GM reported October sales of just 400 more than the same month in 2013.
Higher sales at Buick and Chrysler were offset by a pullback in GMC sales and an 8% decline in Cadillac. GM's flagship luxury brand sold fewer SRX crossovers.
Total light-vehicle deliveries are predicted to rise 5.6% from a year ago to 1.28 million.