US
Study Suggests Salt, Not Weight, Increases Your Risk for Heart Disease and Stroke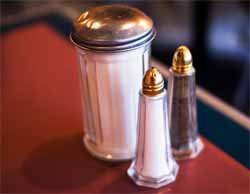 A recent study published in the British Medical Journal identifies high salt intake as a risk factor for heart disease and stroke. The results of this study lead to further questions about the true impact of weight on cardiovascular health.
For many years, the United States medical community has considered weight to be a primary risk factor when determining someone's likelihood to develop heart disease or stroke. The Mayo Clinic, a foundation focused on medical education and research, lists weight management as one of six ways to prevent heart disease.
 "BMI numbers 25 and higher are associated with higher blood fats, higher blood pressure, and an increased risk of heart disease and stroke."
This means that by maintaining low weight, as measured by the body mass index (BMI), the chance for heart disease and stroke should be reduced.
The new British study challenged this idea and suggested that the association is not as strong as initially believed.
"Overweight and obesity are often associated with high blood pressure and are causally involved in the development of hypertension. . . Nine out of 13 studies included in the meta-analysis provided relative risk  estimates adjusted for BMI or body weight at entry into the study….Therefore, as for blood pressure, the association between habitual sodium intake and risk of stroke and cardiovascular disease seems partly independent from the influence of excess body weight."
The study further adds that individuals who are obese may be more sensitive to the effects of high salt intake which include increased risk of heart disease and stroke.
According to the World Health Organization, 17.3 million people died from cardiovascular disease when measured in 2008. The majority of those deaths occurred in middle and low income countries. In the United States, cardiovascular related deaths were greater than 787,000 in 2010.
The United States Department of Agriculture states that nearly all Americans have high salt intake and that the majority of that salt is obtained from processed foods. Reducing salt intake is now believed to reduce the risk for cardiovascular death.
The full results of the study can be read here.
Sources:
http://www.csrees.usda.gov/nea/food/pdfs/hhs_facts_sodium.pdf
http://www.bmj.com/content/339/bmj.b4567
http://www.mayoclinic.org/diseases-conditions/heart-disease/in-depth/heart-disease-prevention/art-20046502