US
Stevens Hired as Celtics Head Coach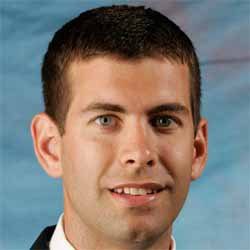 The Boston Celtics have a new head coach, according to various media reports. This is just part of a new start for the NBA team, which appears to be starting over with a younger, fresh group of players and leaders. Brad Stevens, 36, who had been the head coach at Butler, has been hired for the position, according to ESPN reports. Stevens reportedly got a six-year contract which is good for $22 million, according to Yahoo! Sports.
This is not the only move for the NBA franchise. Kevin Garnett and Paul Pierce are leaving the Celtics to head to the Brooklyn Nets while Doc Rivers left to coach the Los Angeles Clippers. Reports point out this is the first time since 1997, when the Celtics hired Rick Pitino, that they hired a college coach. This is the team's first coach with absolutely no NBA experience since 1950, when Alvin Julian gave way to Red Auerbach.
"Though he is young, I see Brad as a great leader who leads with impeccable character and a strong work ethic" Celtics general manager Danny Ainge said in a release. "His teams always play hard and execute on both ends of the court. Brad is a coach who has already enjoyed lots of success, and I look forward to working with him towards Banner 18."
Reports indicate that the Celtics contacted Stevens about a week ago, and they had been waiting for his response to the offer. Reports indicate that Ainge and owners of the team flew to Indianapolis on Wednesday morning for a face to face meeting with Stevens. The deal was the finalized and the announcement was made public.
Who is Brad Stevens?
Having spent the last six years coaching at Butler, with a career winning percentage of .772 and won at least 22 games each season. He led the Bulldogs to the national championship games for two consecutive years in 2010 and 2011.
With a record at Butler of 166 to 49, Stevens holds the most wins for any Division I coach. His contract at Butler was set to expire in 2025. He will currently be the youngest NBA coach.
A native of Zionsville, Ind., he played on the Zionsville Community High School basketball team and set four school records. He earned a degree in economics from DePauw University, where he played basketball. He was a three-time Academic All-America nominee and was named to the all-conference team multiple times.