Technology
SteamBoy will run Steam PC games on a handheld console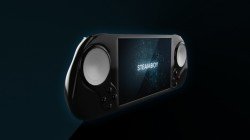 Valve might be on the verge of creating a Steam ecosystem to rival the PlayStation and Xbox, but first it needs to deliver at least one device capable of running its proprietary operating system. A new product called the SteamBoy was revealed in a YouTube video showing a new handheld console capable of running Steam PC games.
This is the first handheld device we have seen running a computer sized OS, and SteamBoy will be able to play most of the Steam library, according to the team behind the portable device. It is an odd announcement, but one that shows Valve isn't just in the living room game for the PC.
SteamBoy will have decent specs, a quad-core processor, 4GB of RAM, 32GB of internal storage, and a 5-inch touchscreen. The portable console will offer two pads similar to the Steam Controller pads alongside a double D-Pad. The two controller pads will mimic mouse movement, making older games compatible.
The SteamBoy is definitely an interesting device. It will allow players to try out their favorite games without sitting at their desk on their PC. It could make games that would be better on a portable device run with the same power as it does on the PC, albeit toned down to fit the power of the portable console.
Steam Machines and Controller were delayed until 2015 following Valve's announcement that it needed more time. Steam OS is available in alpha, but only for developers.
In 2015 we could see Steam OS running on not just Machines and the SteamBoy, but on HDTVs and small set-top boxes like the Apple TV, Roku, and Chromecast, allowing gamers to wirelessly transmit the game from their PC to the living room TV.