Politics
Speaker Boehner invites Pope Francis to speak in front of Congress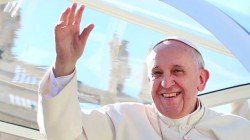 On Thursday, Speaker of the House John Boehner invited Pope Francis to address Congress. Boehner said that his invitation is extended to Pope Francis because he "has inspired millions of Americans" as the head of the Roman Catholic Church.
Boehner said of the pope, "His social teachings, rooted in 'the joy of the gospel,' have prompted careful reflection and vigorous dialogue among people of all ideologies and religious views in the United States and throughout a rapidly changing world, particularly among those who champion human dignity, freedom and social justice. These principles are among the fundamentals of the American idea."
The Speaker of the House also said that the pope's "pastoral manner and servant leadership," is "challenging all people to lead lives of mercy, forgiveness, solidarity and humble service."
A visit by the pope would "honor our nation in keeping with the best traditions of our democratic institutions," according to Boehner.
"It would also offer an excellent opportunity for the American people as well as the nations of the world to hear his message in full," continued the Ohio Republican.
Should Pope Francis decide to visit the United States, it would be the first time that any pope has addressed congress. According to sources close to the pope, he is apparently interested in visiting the United States in September of 2015.
It is unknown how the pope will respond to Speaker Boehner's offer, as he may just wait until his expected visit next September to speak in front of Congress.
Senate Minority Leader Mitch McConnell (R-Ky) chimed in on the invitation extended by Boehner to the pope, saying that he would "welcome the chance to hear his message of optimism and hope here in the U.S. capitol."
Speaker Boehner has often praised the new pope's message of charity and humility, and he said "we cannot meet our responsibility to the poor with a welfare mentality based on business calculations. We can meet it only with personal charity on the one hand and sound, inclusive policies on the other," when trying to put U.S. welfare policy into a more papal context.
The pope's ideas about charity have not sat well with some conservatives such as Rush Limbaugh, who called the pope's criticisms of unregulated capitalism and consumer culture "pure Marxism."
Foxnews.com editor Adam Shaw also criticized Pope Francis, and has said that the pope's position on capitalism was "embarrassing."
It shall be interesting to see if Pope Francis accepts Boehner's invitation to speak in front of Congress, as the event would be of major historical significance.