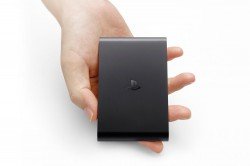 In a move to compete with the Apple and Roku TVs, Sony has announced the PlayStation TV, a new $100 streaming device that will run all of the normal media apps alongside some PlayStation Now streamed games from the PS Vita, PSP and PS1.
This is a big move by Sony, not only because it might drop the amount of PS4 sales if it becomes popular, but because it also brings PlayStation Now to another device. It is basically splitting the buyer between the $400 PS4 and the $100 PlayStation Now, making casual users go for the cheaper option.
Design of the PlayStation TV sticks to the same aesthetic as the PS4, a dark slab-like device. We are interested to see the specs behind the device. Normally streaming devices have very small amounts of internal storage, WiFi, Bluetooth, a USB cable, and that's it. We wonder if Sony's device is different.
Netflix, Hulu Plus, and other streaming services will be available once Sony gets the device over in the United States and Europe. Right now Sony is trying out the PlayStation TV in Japan, but we don't know what type of media partners the Japanese company have over there
The libraries for the PS1, PSP, and PS Vita are pretty large. Over 1,000 titles will be added on launch. PlayStation Now is still in closed beta and will open up in a few months, which could bring more games from the PS2 and PS3 into the fold.
It is a nice touch for gamers, and we would expect it is a better buy than the Ouya or OnLive, but we cannot see this actually making a lot of sales for Sony since the market for low-end streaming games is pretty small.