Politics
Sen Ted Cruz gets $1.5 million in book deal advance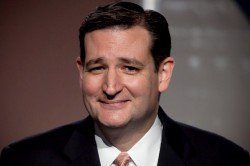 Tea Party favorite Ted Cruz (R- TX) has agreed to write a personal memoir about his experiences in Washington and his hopes and aspirations about the future. The deal he struck with HarperCollins will net him $1.5 million in advances alone.
The Washington Examiner reports "The first term Cruz is expected to receive an advance close to $1.5 million after a four-day book auction last weekend, easily winning the authorship primary over several others penning pre-presidential primary books including Florida Sen. Marco Rubio, Kentucky Sen. Rand Paul, and Wisconsin Gov. Scott Walker."
This advance would be the largest that a conservative politician has received in years, and even larger than the $1.25 million that 2008 GOP vice presidential nominee Sarah Palin received after her meteoric rise on the national political stage.
Keith Urban and Matt Latimer of the Washington-based communications firm Javelin negotiated the deal between Cruz and HarperCollins. These are the two men responsible for negotiating deals with former Defense Secretary Donald Rumsfeld and CBS journalist Sharyl Attkisson.
"The book, still untitled and unwritten, will be part memoir and part Cruz's view of how to get Washington to work again as well as his vision of the future of the country. The 43-year-old has quite a story to tell, being the first Hispanic to serve as Texas solicitor general and as Texas' senator. Elected in 2012, he has also been in the middle of several major fights in Washington, including last year's government shutdown and the continued efforts to repeal and replace Obamacare," explains the Washington Examiner.
Numerous publishers fought over the publishing rights of Cruz's next book. HarperCollins emerged the winner only after offering a massive amount of money to Cruz. The final deal is expected to be signed in the coming weeks.
Newsmax, St. Martin's, and Simon & Schuster were some of the other publishers that fought over the rights to Cruz's upcoming memoir.
After Cruz's $1.5 million and Palin's $1.25 million bonuses, Mike Huckabee and Marco Rubio come in tied for third in recent years with $800,000 book advances.
Sen. John McCain scored $500,000 for his memoir, followed by $400,000 offered to Newt Gingrich and $300,000- $400,000 won by Rand Paul.
Cruz is very likely to run for president in the 2016 election cycle. The divisive U.S. Senator has recently hired lawyers in an attempt to denounce his Canadian citizenship, which is a major hint that the man is certainly considering a run for president.