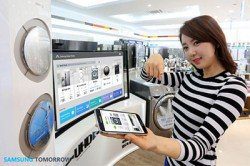 Samsung has officially announced the global launch of its Samsung Smart Home service. The service will initially launch in Korea and the US, with more countries getting the service throughout the year.
With Samsung Smart Home, the company aims to make home automation "effortless and easy" by centralizing control from the single Samsung Smart Home app. With the app, users will be able to connect and control multiple devices in their household simultaneously. As an example, a user will be able to say "Good Night" to their TV's remote control and other connected devices, including the TV and Smart Bulbs, could be set-up to automatically switch off.
According to Samsung, the app can even be used away from the user's home via their smartphone or wearable device. Devices like washing machines or dryers can be checked, automated, and controlled remotely.
"We are excited that the launch of Samsung Smart Home makes the connected home a reality today and allows our customers to live a smarter life," said Dr. WonPyo Hong, President and head of the Media Solution Center at Samsung Electronics. "Samsung Smart Home lets people live better, worry less and be smarter with their devices and appliances. We also have grand plans to enhance more and more parts of the home experience, especially with a view of expanding it to areas with high growth potential such as home safety and energy management."
Samsung has also officially stated that all the data transmitted by the Samsung Smart Home app is encrypted for increased security for users, their homes, and personal data.
Currently, Samsung Smart Home users in the US will be able to connect their Samsung T9000 Smart French Door refrigerator and WF457 smart front loading washing machine to their Smart Home app, but Samsung plans to expand the Smart Home service's line-up to the company's other smart products, including the recently announced Smart Bulb and the Samsung Galaxy Gear Fit.
Users can register to use Samsung Smart Home with their Samsung account and download the app from either the Samsung App Store or Google Play Store. In addition, Samsung will be releasing a separate app from Tizen for the Samsung Galaxy Gear 2.