Investment
Reverse Mortgages Grow in Popularity, Volume Increases in 2013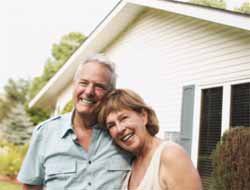 Reverse mortgages are often viewed as a last resort, as most people wish to hold onto every bit of the equity in their home to leave to heirs. Those that do use reverse mortgages to stay afloat financially often go through a grieving process, according to Steve O'Hara, a financial adviser in Northbrook, Illinois.
Attitudes surrounding the loan option are set to change in coming years, said Colin Cushman, chief executive of Generation Mortgage, a reverse mortgage lender.
Reverse mortgages are available to homeowners 62 or older who have paid off their home in full or have a large amount of equity in their primary home. Borrowers stay in their home and receive money, and the loan is repaid when they move, sell or die.
The Federal Housing Administration's Home Equity Conversion Mortgage (HECM) Program is currently popular with seniors. While the government-insured reverse mortgage volume is expected to decrease in 2013 thanks to major program changes, endorsements are expected to rise in 2015 and beyond as the US population ages.
Many homeowners across the country may be forced to turn to a reverse mortgage in coming years for many reasons. People are now living longer thanks to medical advances, and many will use a reverse mortgage to pay for medical costs. More Americans now enter retirement with considerable home equity. In 2011, 25% of all wealth was held in home equity, according to Census Bureau data. Low- and middle-income households are most likely to have their wealth concentrated in their primary home.
"It's a tremendous safety net," O'Hara said.
FHA's reverse mortgage program is set to undergo significant changes, many of which are designed to make the loan option safer for retirees. The FHA will soon limit the amount of money that may be drawn at closing and through the first year of the loan, as upfront costs are tied to risk, and the more borrowers draw, the higher the fees.
Beginning in 2014, borrowers must go through a financial assessment before getting approved for a reverse mortgage to ensure they can meet housing obligations, such as taxes and insurance.
According to the FHA, just over 60,000 reverse mortgages were originated in 2013. Volume of FHA-guaranteed HECM endorsements rose from 2012 to 2013, but is expected to drop 11% in 2014.
In related news, the industry trade group National Reverse Mortgage Lenders Association (NRMLA) is trying to get an exemption for HECM counselors for the new requirements set to go into effect in January under the Dodd-Frank Act.
The association submitted comments on December 12 to the Department of Housing and Urban Development asking that reverse mortgage counselors be made exempt from the new rule designed to assess counselors' competency at informing consumers about the homeownership process.