Politics
Reports on White House and Vatican Meeting Differ Significantly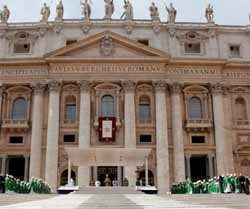 On Thursday, during his European tour, President Obama was granted an audience with Pope Francis at the Vatican in Rome. The meeting was scheduled to take approximately half an hour, but lasted a full 52 minutes, ending in a photo opportunity with media clamoring to show the beleaguered president in good standing with the Holy Father. Insiders doubt that this is precisely the case.
Heavy hitters in the Obama administration, including Vice President Joe Biden, Secretary of State John Kerry, and House Minority Leader Nancy Pelosi profess to be practicing Catholics, a church that flatly opposes many of the concepts that are long-standing planks in the Democrat platform, such as abortion. Catholicism is a religious faith shared with a significant number of Americans and the vast majority of Hispanic voters, whose blessings the Democrat Party are counting upon in the mid-term elections.
In statements following the meeting, the President said he used the Papal visit to discuss common concerns over poverty and economic inequity. The Vatican's official read-out of the meeting did not mention these topics. Instead, following the audience, the Vatican announced that the discussions focused on topics of " particular relevance for the church in that country, such as the exercise of the rights to religious freedom, life and conscientious objection.".
Obama's contention that the two leaders "did not discuss any social schisms," seems not to mesh with His Holiness' version of the meeting. If the Vatican is credible, likely topics of conversation behind the closed doors to the Pope's library were probably abortion, the several civil suits regarding the birth control mandate resident in the Obamacare law, and immigration reform, hot topics for the Church and its followers.
One lawsuit of concern to the Pope may have been the administration's refusal to exempt an order of nuns, The Little Sisters of the Poor, who seek exemption from the Obamacare contraceptive mandate.
With the President's approval ratings now at 40 percent and the Pope enjoying rock-star status among American Catholics and an 85 percent approval worldwide, the White House's plan may have been to enjoy a bonus bump in ratings after standing shoulder to shoulder with the popular Pontiff. Pope Francis is said to be a Church leader who takes a more progressive position with regard to social issues.
Nevertheless, the Pope remains staunchly in support of the Church's position on abortion, euthanasia, birth control, and gay marriage. His progressiveness seems to center upon his desire to make the Church to be a more welcoming place for wounded souls.
The President invited the Pontiff to visit the White House on his next trip to the United States which is slated for September of 2015.