Investment
Recapitalization of Fannie Mae, Freddie Mac Unviable, Would Take 20 Years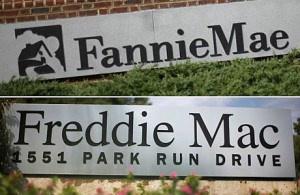 On Friday, a senior U.S. Treasury official said that recapitalization of Freddie Mac and Fannie Mae is unviable and it would take a minimum of twenty years to make sure the two companies are adequately funded. This is the latest effort by the Obama administration to push back against claims the government-controlled mortgage giants could be returned to private company status without legislation.
Mary Miller, the Treasury's undersecretary for domestic finance, said in a speech that if the two companies were preserved and allowed to build up capital, the transition would take decades and maintain a market that left taxpayers too exposed to loss, adding it would not be in the best interest of the middle class.
"Critics of reform would suggest that we can simply recapitalize the GSEs and avoid difficult decisions around creating a new system," she said. "Even if truly rehabilitating the GSEs were possible, recapitalizing them adequately would take at least 20 years."
Fannie and Freddie, which purchase mortgages from lenders and repackage them into securities to sell to investors, were seized by the federal government in 2008 in a massive $187.5 billion bailout as losses threatened solvency. Both companies have since returned to profitability and have paid more in dividends to the government than the total support they received.
The Treasury Department has been involved in pushing a bill to instead replace Fannie and Freddie. The bill cleared the Senate Banking Committee last month by a vote of just 13-9, which is likely insufficient to gain enough support from Democrats to advance through the Senate this year.
Attempts to wind down the two companies have stalled on Capital Hill, spurring hope from investors who want to see them reprivatized. Miller noted, however, that recent profits have been driven by one-time, tax-related adjustments and legal settlements, and the two companies are required to shrink their loan portfolios, which has driven income.
Miller called for renewed effort to ensure financing is available for affordable rental housing and repeated the call of the administration to allow Ginnie Mae, another GSE, to securitize loans made under an FHA program.
Miller also addressed the ideas brought up by some industry executives, who have said that pieces of Freddie and Fannie, including their apartment-financing units, could be sold off while the rest of the companies remain in a government-controlled conservatorship. Miller said the ideas were a nonstarter with the Treasury, which will not consider "any spin-off without legislation."