Technology
Pope Francis' 'Selfie' Photo Attracts Attention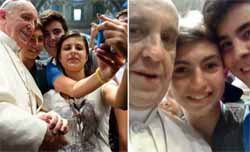 Pope Francis is breaking papal protocol, again. He would be recorded in history as the first pope who has his own 'selfie.' And that photograph is spreading like wildfire today across the social media. He is again enticing attention to himself.
Just this past week, the word 'selfie' was added to the Oxfords Dictionary Online, along with many other words that are now widely used online. In formal definition, a 'selfie' is a self-taken photograph of any individual using a modern smartphone or a PC Webcam. The intention of that person is to post the same picture on his social networking accounts.
On his own actual version of a 'selfie,' the Holy Pope appeared to be puzzled. That gesture may indicate that he is actually new to the activity. He was with a group of teenagers, probably a bunch of youngsters who have come to visit the Vatican.
Group of youngsters
Those young people must have been there with their church group mates. According to reports, they came from northern Italy. They met the Holy Pope last Wednesday (August 28). Some witnesses recalled that Pope Francis readily and amicably agreed to the group's request to have a collective picture with him.
That controversial picture first appeared on the Facebook profile of one of those teenagers. He used the photo as his Webpage profile picture. Instantly, the image went viral across the social media. According to his staunch supporters, there is definitely no marketing ploy behind this new action.
Being different
The 76-year old Pope Francis has always appeared to be different from all his successors. First, he is the first pontiff who hailed from the Latin America. Second, since his election in March, the Pope has been picking up the phone and chatting with ordinary people especially those who have written to him.
Under his leadership, the Vatican now seems more bent to use the current technology to reach out to more people. This was exhibited last month when The Holy Church promised Twitter and Facebook users of possible plenary indulgences they could receive if they tweet or post messages about the World Youth Festival, held last July 23 to July 28 in Rio de Janeiro.
Various reactions were generated by the papal 'selfie.' A press columnist simply asserted that Pope Francis obviously likes being with actual and real people. Some observers think that Pope Francis likes hanging out with friends, unlike like his predecessors.