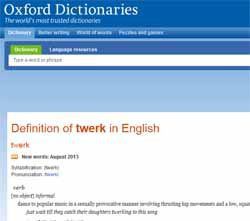 By now, you should already know that when you are taking your own picture and posting it to the social media, you are producing a 'selfie.' Social network site users should know the word by heart. Now, that new term should not be exclusive to social media users anymore. It has been added to the Oxford Dictionary Online.
The dictionary has a more comprehensive definition of a 'selfie.' It is a picture that an individual has taken of himself using a Webcam or smartphone. That same photograph should be uploaded and posted to any Website or social media for it to become a real 'selfie.'
The Oxford Dictionaries team did not just add some new words into its growing list of terms and phrases. The group's actions are always backed by research. For adding new popular words into the dictionary, Oxford has a requirement. That is to make sure the words have already been absorbed by no less than the popular culture.
New words for the dictionary
Every month, the team adds around 150 million new words into its corpus database of usage examples in English. Those words have been gathered from around the globe. Each year, up to 1,000 of those new word entries expand the Oxford Dictionary online. The update for this quarter has just turned more exciting as it seemed to be really concentrated on young people.
Another interesting new word has been added to Oxford Online Dictionary. It would be 'twerk.' The definition is simple: to dance to any popular music doing sexually provocative movements that usually involve thrusting of hips and squatting low.
Thus, you now have the perfect word to use when describing the dance movements that Miley Cyrus recently did in the latest MTV Music Video Awards. Thus, 'Nobody thought Miley Cyrus would do a twerk.'
Other new entries
These were not the only interesting words that were just added to the dictionary. Most of these new words were taken from the technology language. For example, a 'bitcoin' is a decentralized currency. 'Emoji' is a small icon or image that expresses emotions and ideas in electronic communications.
Of course, a 'phablet' is a device that looks like it was a combination of a smartphone and a tablet. A 'hackerspace' is a venue where computer enthusiasts gather to work on their latest projects and to share ideas and tools.