Politics
Obama says that he will not attend Winter Olympics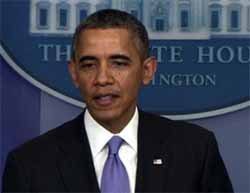 On Friday, president Obama announced that he will not be attending the 2014 Winter Olympics in Sochi, Russia.
At his year end press conference, Obama commented on the Olympics, noting, "I haven't attended Olympics in the past and I suspect that, you know…me attending [the] Olympics, particularly at a time when we've got all the other stuff that people have been talking about, is going to be tough, although I would love to do it."
Obama's decision to not attend the Winter Olympics is not surprising, as the president has a lot of damage control to do early next year in regards to the implementation of his landmark healthcare law.
Also, Obama's relationship with Putin has been strained by two occurrences this year, Russia offering asylum to NSA leaker Edward Snowden, and the passage of new anti-gay legislation earlier this year.
First lady Michelle Obama, Vice-president Biden, and any Cabinet officials are included in the group of people not attending the Olympics in Sochi.
Instead, the president is relying on his Olympic delegation to represent the United States. This delegation includes a number of openly gay athletes such as tennis player Billie Jean King and figure skater Brian Boitano.
Obama backed up his choice of Olympic delegation, stating, "When it comes to the Olympics and athletic performance we don't make distinctions on the basis of sexual orientation. We judge people on how they perform, both on the court and off the court, on the field and off the field."
Obama is the first U.S. president to openly support gay marriage, so his choice of Olympic delegation members, as well as his criticism of the new anti-gay Russian laws, should not come as a surprise.
There are some gay rights groups that believe that the Obama administration has not gone far enough in regards to the 2014 Winter Olympics. Many have called upon the U.S. to boycott the Olympics in protest of Russia's stance on homosexuality.
The president has taken a stance against the idea of a boycott, saying that while he was "offended" by the Russian anti-gay laws, he would not punish U.S. athletes who have trained for years leading up to the 2014 games.
Even though Obama won't be attending the upcoming Olympic Games in Sochi, he did comment on his love of the Olympics at his press conference on Friday. Obama said that he would be "attending a lot of Olympic Games post-presidency."