Politics
Obama blurring lines in military's duties to justify intervention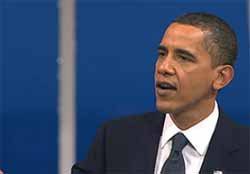 In an attempt to facilitate what is akin to mission creep and an ability to deploy military forces in increasingly more countries, the Obama administration has been increasingly blurring the line between traditional military missions and humanitarian deployments in an attempt to globally deploy advisors, further merging defense and foreign aid functions which were once kept separate.
WND reported that this blurring is not unique to the Obama administration, but actually began under his predecessor George W. Bush. However, WND also noted that the blurring has escalated to new heights under the current regime.
In an article titled "Obama blurs line between military, foreign aid" Steve Peacock notes that the Military Liaison Team (MLT) with the US Agency for International Development which will use the new advisers to help coordinate efforts between USAID and all of the Department of Defense agencies.
The information was uncovered from planning documents Peacock discovered during a routine database search. He discovered that the advisor posts, which are called Humanitarian Assistance Adviser/Military, or HAA/M are intended to serve as a "critical liaison function between USAID and the DoD military establishment."
The article noted that these individuals are not simply professional educators teaching in the classroom but instead among the qualifications that they must have are "professional experience planning for or responding to" chemical, biological, radiological, nuclear or explosive events."
The agency's Office of US Foreign Disaster Assistance (OFDA) is also recruiting individuals for a HAA/M position the office is planning with US Special Operations Command, or USSOCOM, which is headquartered at MacDill Air Force Base, Tampa, Fla.
"Due to their existing presence in countries around the world, special operations forces (SOF) can be the first U.S. military forces in country following natural disasters or complex emergencies," the solicitation says.
The article noted that among the core duties of the advisers will be for them to deploy with DOD forces in humanitarian emergencies" and to "assist OFDA management in defining a strategy for military coordination."
These duties are far removed from the military's traditional role which is to be used in combat situations to help fight an enemy that poses a threat to the United States. The blurring has the potential to create mission creep which could cause the United States to eventually become bogged in armed conflicts in other countries.
During the Vietnam War, America first began sending military advisers to help the South Vietnamese government; however the advisor roll eventually escalated into a full-blown conflict involving America fighting against the Communist North. A similar incident occurred in Somalia where troops were sent in to what initially was supposed to be in humanitarian gesture. However, the situation eventually developed into an armed conflict resulting in the famous "Black Hawk Down" incident.