Technology
Nexus 6 could have featured a fingerprint sensor!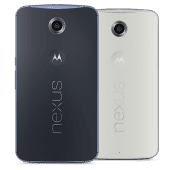 Nexus is a great device especially for those who love large screen phablets. However, this amazing flagship would have been even better, if there was something unique like a fingerprint sensor. And it looks like Motorola did have plans to incorporate one on the Nexus 6, but Apple spoiled the company's plans.
Motorola Nexus 6 had a dimple at its back, which was big enough to fit in a fingerprint sensor. However, when the device was announced, this empty space on the back looked out of place. While some said that the place was ideal for holding the device, others claimed that space would have been perfect for a feature like a fingerprint sensor.
Motorola's former chief executive Dennis Woodside said yesterday that Motorola wanted to fit a fingerprint sensor at the back of its flagship device. Currently working at Dropbox, he confirmed the company did have plans for this feature.
The best technology for fingerprint sensing was acquired by Apple, which left Motorola and for that matter everyone else in the industry with other less developed technologies. This naturally put Motorola in a tough position and the company finally decided to release its flagship without this feature.
While Apple had the best tech, the other companies with fingerprint technology were not as developed or efficient. So, it didn't make sense for Motorola to incorporate something that was not top notch on to a powerful device like the Nexus 6.
"It was supposed to be fingerprint recognition," Woodside told UK newspaper The Telegraph, "and Apple bought the best supplier."
Apple integrated this technology into its recent products, starting with the iPhone 5S and now even the new iPad Air 2 tablet comes with this particular tech. What makes Apple's fingerprint tech different from others is the sensing capability of the TouchID sensor. Unlike other fingerprint tech, which requires a clean swipe at a particular angle to work, Apple's patented Touch ID can recognize prints at any point around the sensor. This makes Apple's fingerprint tech much more efficient and useful than the ones found on other rival companies like Samsung.
However, other tech companies are slowly catching up with Apple's efficiency and it will only be a matter of time before everyone with a fingerprint sensor can just touch to unlock their phone instead of swiping. In fact, Samsung has reportedly developed a newer version of fingerprint tech which will work with just a touch. So, looks like market is already reaching the efficiency level of Apple's Touch ID sensors.