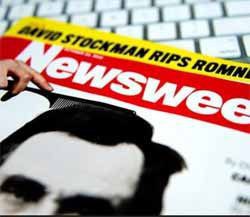 International Business Times (IBT) has purchased Newsweek, according to reports. IBT is an all-digital news company. Newsweek, the news magazine that ended its print publication late last year, was sold for an undisclosed amount by IAC, who currently has the controlling interest in the publication.
Last October, The Daily Beast, the IAC that operates Newsweek, made the announcement that it would abandon the magazine's print edition at the conclusion of 2012 and run all content online. Tina Brown, who serves as the editor-in-chief of both Newsweek and The Daily Beast had said during that time that readers were using tablet computers to access news more and that print advertising had weakened, forcing the decision.
IBT said on Saturday that it will take control of Newsweek's content 60 days after the sale is completed, with the sale completion expected to occur within the next few days, according to statements issued by the companies.
IBT Media is based in New York. The company's other online properties include International Business Times, Latin Times and Medical Daily.
In a statement, IBT Media CEO Etienne Uzac said, "We believe in the Newsweek brand and look forward to growing it, fully transformed to the digital age. We respect the brand's long history of delivering high-quality, impactful journalism and believe this aligns well with IBT Media's culture and mission."
Newsweek was owned by the Washington Post for the majority of its 80 years before being sold to Sidney Harman, who was a pioneer in the audio industry, back in 2010. In a deal that was finalized in February 2011, the publication merged with The Daily Beast. After the merger, the end result created a joint venture which was half owned by IAC. IAC-Interactive took a controlling interest in the joint venture the following year, in 2012.
According to IAC records, the company has more than 150 online properties. Those properties include The Daily Beast, Ask.com, Match.com, and Vimeo. The print edition of Newsweek was known as a longtime arch-rival of Time magazine, which is published by Time Inc., a partner in CNNMoney with its fellow Time Warner Inc. unit CNN.
Newsweek is considered an iconic American business magazine that is known worldwide. The challenges faced by the weekly magazine are not unusual, as numerous print publications have faced difficulties overcoming the challenges of a predominantly digital age. Many publications, including magazines and newspapers, have sold in recent years.