Politics
Multiple fatalities following shooting at US Navy Yard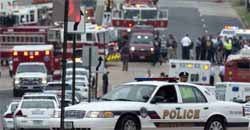 Authorities are currently looking for a second shooter at a mass shooting that occurred at the Washington Naval Yard, America's oldest naval facility early this morning.
While information is still forthcoming, authorities have confirmed that the shooter had been killed, while two other officials are now saying police are looking into the possibility of a second shooter. The current death toll is six along with at least 10 wounded, including a law enforcement officer.
Witnesses described the shooter as being a dark skinned man who opened fire from the fourth floor, firing down on people who were in the first-floor cafeteria. Other witnesses said they were fired on by a gunman in a third-floor hallway.
Approximately 3,000 people work at the Naval Sea Systems Command headquarters, which builds, buys and maintains the Navy ships, submarines and combat systems. To give an idea of how significant this facility is, approximately 25% of the Navy's operating budget goes to maintain the Washington Navy Yard.
Todd Brundidge, an executive assistant with Navy Sea Systems Command, said he along with other co-workers encountered a gunman in a long hallway of their building on the third floor. The gunman was wearing all blue, he said.
"He just turned and started firing," Brundidge said.
Terrie Durham, an executive assistant with the same agency, said she also saw the gunman firing toward her and Brundidge.
"He aimed high and missed," she said. "He said nothing. As soon as I realized he was shooting, we just said, `Get out of the building.'"
According to the Washington Navy Yard's website, the yard has three gates. One of them is open 24 hours a day, seven days a week and is used by visitors. A second gate is for military personnel only while the third is for bus traffic.
Following the shooting authorities briefly closed all outbound flights from Reagan international Airport while nearby schools and the headquarters for the Department of Transportation were locked down. Police also stepped up security on the grounds of the US Capitol building.
Police have issued lookouts for two people and described the suspects as being a 50-year-old black man with a rifle, wearing a drab olive military uniform along with a white man with a pistol who was wearing a short sleeved, khaki uniform and a beret.
President Obama, who was speaking at an event marking the fifth anniversary of the financial crisis, spoke about the shooting by making comparisons to the shooting at the Sandy Hook elementary school last December.
"We are confronting yet another mass shooting, and today it happened on a military installation in our nation's capital. It's a shooting that targeted our military and civilian personnel. These are men and women who were going to work, doing their job, protecting all of us. They're patriots. And they know the dangers of serving abroad, but today they faced the unimaginable violence that they wouldn't have expected here at home," the president said.