Motorola Won't Release New Smartwatches Anytime Soon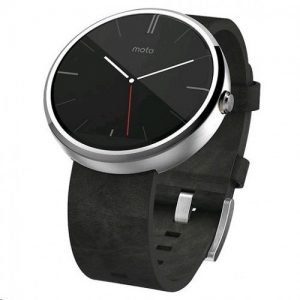 Smartwatches was supposed to be the next big thing in the tech industry and it did manage to get the attention of the tech lovers to some extent. But looks like the demand for new smartwatches are not as much as earlier predicted as companies are taking a back seat when it comes to releasing new Android Wear powered smartwatches. Motorola has just revealed that it won't be making any new smartwatches anytime soon.
Motorola turned out to be one of the first smartwatch makers to release a round faced watch. The round face made it look like a regular smartwatch and became quite popular among users, with many companies shifting towards a similar round face rather than a square display which was popular before. Moto 360 could have been one of the first good looking smartwatches but don't expect a sequel to the watch anytime soon, as the company confirms that it has scrapped plans to release a new watch in 2016. What's more, Motorola has even said that it would not release a new smartwatch alongside the release of Google's new version of Android Wear, a platform that's specially made for wearables.
The reason for pulling back is simple — lack of enough demand for new wearables. Motorola says that it doesn't see enough pull in the market right now for a new smartwatch. This is similar to the strategy taken by Huawei and LG who have reportedly scrapped plans to release a new smartwatch in 2016. Shakil Bharat, the head of global product development at Motorola revealed to the Verge, "Wearables do not have enough broad enough appeal for us to continue to build on it year after year".
Companies like Samsung are taking a different route altogether. While Samsung may not have given up on wearables, its watches don't use Android Wear and instead takes advantage of its own Tizen OS. This is because, Google's Android Wear platform, which although looks quite promising, isn't without problems. Ideally, Google should have released the new version of Android this year itself, however, the company recently revealed that it would postpone the release to 2017, explaining that it wants to give engineers more time to work on it.
While this news is sad for fans who were waiting for a new Moto 360 watch, the company executive adds that this doesn't mean that it's pulling out of the market entirely. But for now, it seems to be happy waiting and watching how the market moves in the next few months.