Technology
Moto 360 smartwatch price revealed by UK retailer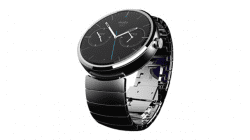 Motorola has been silent when it comes to the price for its new Moto 360. Originally thought to be the more expensive of the two smartwatches revealed alongside Android Wear, it might be the other way around, with Motorola targeting the same market as the LG G Watch and other wearables already available.
This comes right from the mouth of a retailer based in the UK called MobileFun. The UK website has a blog post detailing different types of features coming to the Moto 360 and the price, set at £199 in the UK and $279 in the US.
It feels like more of a blog post than anything else, but considering MobileFun sell phones and accessories, we should consider this the first official announcement on the Moto 360 price and one we are excited to hear will be under $300.
We have already seen the Moto 360 on the Jimmy Fallon show, where Editor in Chief of The Verge, Joshua Topolsky, was seen with the smartwatch on his wrist. This most likely means review units are already in the hands of reviewers and beta testers, with a launch coming sometime in the next few months.
Google I/O will be the first place to hear about Android Wear's official launch date and the features coming to the smartwatch SDK. We do not expect Google to announce the third party hardware at I/O, although it wouldn't be the craziest thing to happen at Google's developer event.
Motorola has been showing off the smartwatch, but we still don't know about the battery situation.
Android Wear is definitely an interesting way to go about the small screen on the Moto 360 and other smartwatches, offering Google Now contextual information and voice recognition for most of the user interface.