Politics
Mitch McConnell backs establishment candidate in Republican primary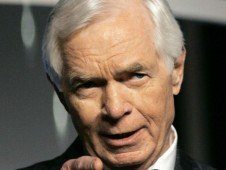 Senate Minority Leader Mitch McConnell has chosen to back establishment incumbent Thad Cochran over his Tea Party opponent, Chris McDaniel.
McConnell is going to host a "run-off reception" for Cochran to help him raise money to fund his fight against McDaniel. The event will take place on June 19th at the National Republican Senatorial Committee in Washington, D.C.
"Our friend Thad is in a battle in the coming weeks that will have a very real impact on our fight for the majority. You have helped all of us in the past, and we need your help now," wrote McConnell in an email to Republican Party donors.
"It is critical that he has the financial resources now, and we are going to make sure he has them. We have been in this situation before and all of us know well from experience, this is no time to sit on the sidelines," continues McConnell.
McConnell is referring to the fact that Republicans have a strong chance of taking back the Senate this fall in the midterm elections. McConnell believes that an establishment candidate such as Cochran will have a much better chance of holding the Mississippi Senate seat come November.
Mississippi is a Republican stronghold though, so nominating a Tea Party conservative is not as risky a prospect as it is in most states. The seat will remain Republican regardless, so McConnell is backing the establishment for reasons other than wanting electoral success.
Cochran and McDaniel will face off once again on June 24th, so each candidate only have a few weeks to raise money and campaign until voters decide who will face the Democratic candidate.
"The NRSC has promised to support Cochran in the second phase of his re-election bid, but some outside groups, such as Karl Rove's American Crossroads, have decided to forego spending money in the race to focus on battleground states," reports the Washington Examiner.
McConnell's backing of Cochran comes just after he beat out a Tea Party challenger of his own. Matt Bevin challenged McConnell in an incredibly expensive primary race last month. It cost McConnell millions of dollars that he would have otherwise spent on the general election in November.
Even though Bevin was the Tea Party backed candidate, Senator Rand Paul endorsed McConnell, as he saw the benefit in continuing an alliance with the top Republican in the U.S. Senate.