Technology
Microsofts Officially Unveils Windows Phone 8.1 and Cortana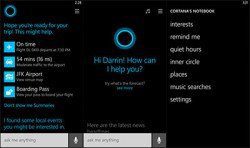 Microsoft has officially unveiled its new Windows Phone 8.1 update as well as the company's own virtual personal assistant, Cortana, at the Microsoft Build conference.
Cortana gives Windws Phone 8.1 users their own virtual personal assistant powered by Microsoft's Bing. Similar to both Google Now and Siri, users will be able to add items to calendars, set alarms, find nearby restaurants, perform searches, play back music, and set so-called "quiet hours." Cortana will slowly learn, adapt, and evolve, based on the user's search and activity history and will be able to provide contextual data and information to the user, similar to Google Now.
The new Windows Phone 8.1 update will also introduce a new Action Center, which is basically a notifications hub where users can customize which apps can post notifications and how they remind you about them (vibration, etc.). The Action Center will also be home to a few system toggles, including ones for WiFi, Bluetooth, Airplane Mode, and Internet Sharing.
The lock screen on Windows Phone 8.1 has also been changed to be more customizable, and Microsoft is releasing new APIs for third-party apps to introduce interactivity and other things to the lock screen. The Start Screen tiles will now also be customizable, with users being able to choose an image to use instead of the current solid colors.
Microsoft is also introducing Wi-Fi Sense, which is a feature that lets your smartphone automatically connect to free wireless hotspots as they become available. Wi-Fi Sense will also let users share their home wireless network with others via their Windows Phone 8.1 device without giving them the password. A new version of Skype will also be introduced with a new feature that lets users convert regular phone calls to Skype calls. Lastly, a new keyboard feature called "word flow" that allows users to slide their finger from letter to letter to form words will be coming to Windows Phone 8.1.
Microsoft has not left out business users, as it will be introducing support for VPN and S/MIME, which adds encryption and signing to e-mails.
Windows Phone 8.1 and Cortana will be coming to Windows Phone-powered devices in the next few months, but brand new Windows Phone 8.1 devices will start rolling out sooner; around April or May.