US
Memorial Service Held to Honor the 19 Hotshots Killed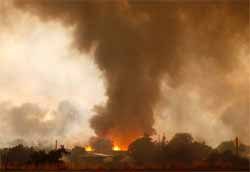 As one of the most dangerous wildfires in the history of the United States continued to rage, a memorial service was held in Arizona to honor the 19 fallen members of an elite firefighting crew that were killed Sunday while battling the Yarnell Hill Fire in Central Arizona. Sunday was the deadliest day for firefighters since the terrorist attacks of Sept. 11, 2001.
The blaze, which was caused by lightning, has grown to include 8,400 acres. Dozens of homes have been evacuated and at least 200 homes and other structures have been destroyed. Losses are calculated to be in the millions.
How the Hotshots Were Killed
Violent wind gusts turned the fire that the elite firefighters battled into a death trap. The Prescott, Ariz., based members of the Granite Mountain Hotshots crew unfurled their foil-lined, heat-resistant shelters and rushed to cover themselves on the ground, as they had been trained. To do their job, the shelters must be in a cleared area, which is away from fuels and not directly in the path of a raging fire.
Reports indicate the winds were blowing from the southeast toward the west, but then gusts of 40 to 50 mph started blowing in all directions. Reports indicate there was a gust of wind from the north that blew the fire back and then trapped the crew.
At about 3 p.m. Sunday, the firefighters were put in a situation where they were unable to flee from the fire and they perished. The crew consisted of 20 members. Only one member survived, and that was because he was moving the unit's truck at the time. Authorities are investigating to determine what exactly went wrong after the wind changed direction and why the firefighters were unable to escape.
The firefighters killed ranged in age from 21 to 43. Deploying the shelters is always a last ditch effort in an attempt to save yourself for such crews, so they were aware of the severity of the situation, authorities have reported.
More Crews Arrived
About 200 more firefighters arrived to battle the inferno on Monday as vans from the Coroner's office carried the 19 bodies of the Hotshots from Yarnell to Phoenix for autopsies. Besides the dangerous flames, the crews have to contend with downed power lines and exploding propane tanks, which threaten the remainder of the town.
Although a light drizzle has fallen in the area, the fire continues to rage out of control consuming everything in its path. Reports indicate it is probably the worst wildfire in the U.S. in at least 80 years.