Investment
Melvin Watt Sworn in as First Senate-Confirmed FHFA Director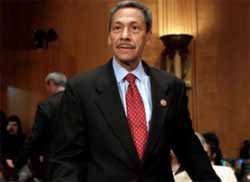 After a long delay, Melvin L. Watt was sworn in on Monday to a 5-year term as Director of the Federal Housing Finance Agency (FHFA). Watt, a sitting member of Congress at the time of confirmation, has become the first Senate-confirmed director of the agency since 2008 and replaces Acting Director Edward DeMarco, who was appointed and not confirmed by the Senate.
Watt will act as regulator of the government sponsored enterprises Fannie Mae and Freddie Mac, as well as 12 Federal Home Loan Banks. He will effectively oversee a $5.5 trillion mortgage finance market.
"I am honored to serve as Director of the Federal Housing Finance Agency. Today's housing finance system is one of the keys to our economic recovery and I am grateful for the opportunity to help develop a strong foundation for moving this system forward for the benefit of all Americans at this critical point in our nation's history," Watt said in a statement.
Watt's path to the position was cleared in December after a drawn-out and contentious debate, including a controversial rule change allowing him to be confirmed with a 57-41 Senate vote.
Watt was nominated by Obama in May, but Senate Republicans threatened to filibuster the nomination. This led to Senate Democrats changing the rules, allowing Watt and other nominees to overcome filibusters with a simple majority vote. Previously, it took 60 votes in the 100-seat chamber. He was backed by all 55 Democratic members, while just 2 Republicans supported him.
The mortgage industry holds high hopes for Watt to become a friend for the broader housing market. Watt is a longtime member of the House financial services committee, overseeing housing issues. When nominated for the role, White House officials pointed to his "critical role" in the passage of the Dodd-Frank Act, which has improved consumer protections, as well as legislation he spearheaded to stop predatory lending practices in the mortgage industry.
Before taking office, Watt said he would delay a number of Fannie Mae and Freddie Mac loan fee increases announced by the FHFA a day before his confirmation by the Senate last month. Consumer and industry groups said the increases would drive up the cost of borrowing for a mortgage.
Watt's predecessor, DeMarco, faced criticism from housing groups and consumer advocates for blocking Fannie and Freddie from reducing mortgage balances for troubled borrowers, despite winning praise from Republicans for protecting taxpayer interests. Watt is expected to consider a targeted principal forgiveness program for borrowers.