Technology
'MakeUp Text' App Counters the Recently Launched 'BreakUp Text' App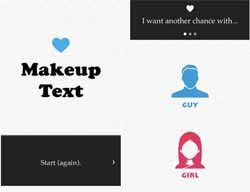 Last week, a new app called 'BreakUp Text' app provided comic relief to the usually geeky and serious landscape of technology news. As the name suggests, the app was about composing appropriate and effective text messages for breaking up with someone.
Now, after that app spurred controversy and interest, its creators have decided that it is high time for a follow up. Lauren Leto and Jake Levine did not intend to make another breakup app to surpass the predecessor. Instead, they aimed to strike a balance by aiming to help ex-couples reconcile.
The app creators have just unveiled their new baby, an app called 'MakeUp Text.' As expected, it is countering and opposing the direction taken by the app before it. Obviously, this app is intended for individuals who aim for a rebound.
MakeUp Text app
This new app specifically targets individuals who have broken up with their former lovers and suddenly, they realize that it was the wrong move. It could be harder to win an ex-lover back than to win him/her for the first time. That is why whatever helps a person could get to make the effort work; he/she should pursue it.
Just like 'BreakUp Text,' 'MakeUp Text' composes and sends out text messages that are meant to win back an ex-boyfriend or ex-girlfriend. The magic is in the treatment of the action. As usual, the app employs humor to make it lighter and to make it easily catch attention.
Three excuses
The app offers three major excuses for breaking up and then aiming to make up. First, a user may choose "Something Caught My Eye." Second, the message may start with "I lost Interest." Third, it could be quite unbelievable but it could be the most effective: "I Was Kidnapped by Russians."
Based on the compositions, one may instantly infer the app developers drew inspiration from their personal experiences. However, both Leto and Levine admitted that they have never tried using the 'BreakUp Text' to bring back an old flame.
There is good news coming along with the launch of 'MakeUp Text.' If 'BreakUp Text' cost 99 cents to download, this one could be downloaded and used for free. It is initially available on Apple Store. Again, there would also be a Web version for users who find more comfort in using the PC to compose the important rebound message.