Politics
"Kill corrupt politicians" California candidate says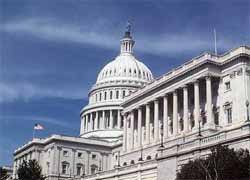 A Republican candidate in California for Attorney General has a unique way of preventing government corruption with his call for the death penalty for corrupt lawmakers who endanger the lives of others.
The novel idea comes from Phil Wyman, a Republican with 17 years of experience in the state Legislature. Wyman said he got the idea after the recent spate of corruption charges by state officials, but especially that of Democratic Sen. Leland Yee, who is facing federal charges over an attempt to coordinate the sale of guns and military weapons, including missiles, from terrorists in the Philippines to Americans in exchange for campaign contributions.
In a press release an follow-up phone interview with ABC News, Wyman said he was serious about his calls for the death penalty, saying it should be applied to those elected officials who are what he calls the "most egregious" abusers of their office and that if convicted of their crimes, should be permitted to choose their own method of execution to serve as a deterrent to other politicians to keep the public trust. Politicians facing execution could choose from lethal injection, hanging, or firing squad.
"If they know that it's gun-running and they know it's going into a terrorist organization in the Philippines, that person earns the death penalty, and especially if they're in elected office," Wyman told ABC News.
Currently California law only allows for the death penalty by lethal injection for murders that have been committed with aggravating circumstances behind them such as murder-for-hire. However, Wyman said he believes the state should make an exception for politicians engaged in corruption.
"Firing squad, at least that's a bit more macho than getting some other cocktail. Let that person choose. That person's been at the pinnacle of power. If he wants to be executed by firing squad, let him," he said to ABC News. "I want to discourage and teach the new generation about values – that nobody is above the law."
A spokesman for Senate President Pro Tem Darrell Steinberg, D- Sacramento dismissed the idea in a mocking tone saying, "How can you even respond to something that ludicrous?"
Wyman also took issue with current Democratic Attorney General Kamala Harris, saying despite there being multiple incidents involving Democratic lawmakers facing federal charges on various matters, she has been "silent as a mouse" on the corruption cases of Democratic state senators.
Despite being charged, under California law the senators will continue to draw a paycheck unless they leave office. Steinberg has suspended the senators but has yet to expel them, saying that they have yet to be convicted of any crimes.