US
Kerry Washington Ties the Knot with NFL Star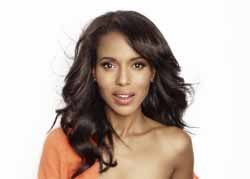 Kerry Washington, the 36-year-old actress, narrator and director who is best known for her leading role in "Scandal," a popular ABC drama, has gotten married, various sources report.
Nuptial Details
The actress married NFL star Nnamdi Asomugha in a ceremony in Hailey, Idaho, on June 24, according to media reports. E! reported the marriage on Wednesday and even posted a copy of the marriage license online. The Blaine County recorder's office, which is located in Hailey, Idaho, confirmed the June 24 filing of the marriage license to the Associated Press.
A relative of the bridegroom performed the ceremony while Washington's parents served as the witnesses, according to various media reports. It was a private ceremony, and many media sources indicate the wedding has been a surprise.
Who is Kerry Washington?
A popular actress, Washington also appeared in the films "Peeples" and "Django Unchained." In the popular series, "Scandal," she portrays Olivia Pope, who was a former crisis management expert to the president.
Who is the Bridegroom?
Asomugha, 31, plays in the position of cornerback for the San Francisco 49ers. The professional football player previously played with the Philadelphia Eagles and the Oakland Raiders.
More Details
This is a first marriage for Washington, who had been engaged to David Moscow. The couple broke up in 2007. Featured on the cover of the July issue of Vanity Fair, Washington keeps the details on her career, not her personal life, according to reports.
Washington's Awards
Washington has several awards and nominations for her acting career to her credit. She was the recipient of the 2013 BET Award for Best Actress and was nominated for that award in 2011. In 2008, she was nominated for various categories in the Black Reel Awards from 2002 to 2007.
In 2002 she was nominated for Best Female Lead in the Independent Spirit Awards, and in 2013 was nominated for the MTV Movie Award for Best Kiss.
She won two NAACP Image Awards during 2013, for Supporting Actress in a Motion Picture and Outstanding Actress in a Drama Series. She previously won a NAACP Image Award for Outstanding Actress in a Motion Picture in 2005.
She won a Razzie Award for Worst Screen Couple in 2007 for her performance in "Little Man" with Shawn Wayans and Marlon Wayans.  She has also been nominated in the Satellite Awards, Screen Actors Guild Awards, and Teen Choice Awards.