Politics
John Kerry says that evidence points towards Russian involvement in Malaysian Airlines massacre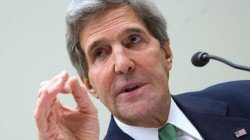 Secretary of State John Kerry said on Sunday that there is "extraordinary circumstantial evidence" that suggests that the Russian government had supplied pro-Russian separatists in Eastern Ukraine with the surface to air missile that was used to shoot down Malaysia Airlines flight MH17.
"I'm a former prosecutor. I've tried cases on circumstantial evidence. It's powerful here. There is a lot that points at the need for Russia to be responsible," said Kerry on NBC's "Meet The Press."
"We're not drawing the final conclusion," said Kerry, unwilling to completely accuse Russian President Vladimir Putin of being complicit in the attack on the passenger airliner.
Kerry also took the time to make the case that the Obama administration has indeed been tough on Russia when negotiating various issues regarding the conflict in Ukraine.
"Obviously, the additional sanctions are reflections of the president's, you know, exhaustion of patience with words that are not accompanied by actions. We've made it clear, even as we do that, there's no naivety in what President Obama has done with respect to these very tough sanctions," said Kerry.
Kerry also argued that Europe should work together to take a stance against Putin's regime.
"The United States has been working diligently with Europe, trying to bring Europe along. They've included additional sanctions. We think, frankly, that they may need to be tougher," said Kerry.
Kerry would not comment on what the United States' next move in regard to Russia will be, but he did say that the current foreign policy strategy needs to change.
He said the U.S. "cannot continue with a dual-track policy where diplomacy is winding up with nice words and, you know, well-constructed communiqués and agreements but then there's a separate track where the same policy continues."
"This is a moment of truth for Mr. Putin and for Russia. Russia needs to step up and prove its bona fides, if there are any left, with respect to its willingness to put actions behind the words," concluded Kerry.
So far, Russia has proven to have a belligerent attitude towards Ukraine and the United States. Russian foreign policy has proven to be one that is coupled with both a sense of flippancy and a lack of common decency.
Putin's government is clearly responsible for what happened, but so far there has been a lack of accountability on part of the Kremlin.