Politics
Jan Brewer signs legislation that aims to stop human trafficking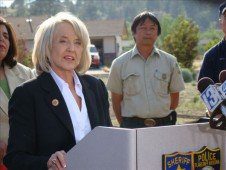 On Tuesday, Arizona Governor Jan Brewer signed a bill that will curb human trafficking. Brewer signed the legislation, which was championed by Senator John McCain's wife, during a press conference.
"The goal of this legislation is to further discourage criminals from inflicting this horror on people of Arizona, particularly our children. But we must and we will remain active, vigilant and ready to act in order to end this evil in Arizona," said Governor Brewer at the news conference.
House Bill 2454 creates stricter penalties for trafficking adults in the prostitution business, and it goes after businesses that engage in sex services that advertise online. The bill requires advertisers to post license numbers publicly and have written permission of any women that are depicted in ads. It also requires advertisers to have proof that any women that appear in ads are not minors.
"What this task force has done and what the governor has done in putting this House bill together is literally on the cutting edge of what's going on with this issue and has been followed around the world," said Cindy McCain, who sat on the governor's task force that brainstormed the outlines for the bill.
McCain has spent much of her time pushing for anti-human trafficking legislation in other states, particularly ones that host the Super Bowl, as the massive event attracts pimps and prostitutes.
The law in Arizona will help to close off the state to those traveling human traffickers.
The Associated Press reports "The bill, sponsored by Rep. Eddie Farnsworth, R-Gilbert, increases the minimum penalties for a child-prostitution conviction from 10 years to 24 years in prison. It also makes pimping a child or adult a racketeering offense that will allow asset seizures. The bill received unanimous support in both chambers of the Arizona Legislature."
This legislation puts Arizona at the forefront of the fight against human trafficking in the United States. Many other states are likely to follow in Arizona's footsteps, as this bill will effectively crack down on prostitution and human trafficking in the state.
The bill signed by Brewer also displays a rare moment of bipartisan cohesion in the state. Both the State House and the State Senate overwhelmingly backed House Bill 2454, and it breezed through the legislative process and made it to Governor Brewer's desk without any major issues or fights.