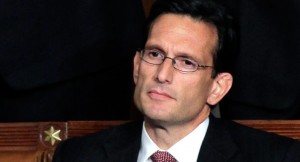 The Tea Party is calling it The Virginia Miracle, but Eric Cantor's primary defeat last night wasn't as surprising as some might imagine.
If it were up to former president Bill Clinton, he would put it simply; "It's IMMIGRATION, stupid."
In a May 29th article, the U.S.FinancePost sounded the alarm that Virginia voters were growing increasingly disenchanted with the "Ruling Class Republican" majority leader in the U.S. House of Representative, saying Cantor was just too slippery on the subject of amnesty for illegal immigrants who cross the border into the United States.
The House Majority Leader has been actively seeking a compromise on the matter with the "Ruling Class Democrats," while his constituents clamored for old fashioned values. That value system has no space for lawless behavior in any station of life from the Presidency and Congressionals.
Cantor ignored the outcry of his constituents to his own ruin.
In a news week that includes heart-wrenching images of homeless, hungry children sheltering in U.S. military facilities where they are being warehoused after coming across the border, literally invited by the President's selective deportation policy, immigration is a very sensitive subject. The subject of amnesty is even touchier.
Americans are not in the mood to grant amnesty to the millions of undocumented aliens who are currently in the country illegally. Nor would it seem that now is the time to bring thousands of new, undocumented families to further burden the already rickety job market. The Virginia Miracle Message is abundantly clear. The border needs to be secure and people wishing to enjoy the benefits of citizenship must do so lawfully.
It would be inaccurate to suggest that immigration is the only issue Americans care about. Instead, there is a groundswell of mistrust and a sense of betrayal in the relationship between most establishment candidates and their constituents. Mississippi's long-term Senator Thad Cochran, who faces a bitter runoff against Tea Party darling Chris McDaniel later this month, is fighting the battle of his career for all the same reasons Cantor lost. Constituents are looking for candidates who are willing to buck the system, not go along to get along.
The Virginia Miracle may herald the beginning of a new era in government. Or not. But, one thing is certain; voters are fed up with the status quo in Washington, DC. If voters must follow the laws of the land and, among other bitter responsibilities, live within their means, they seek candidates who will do the same hard work. The voters no longer trust Congress to do their jobs, so voters are looking for new blood, honesty, and straight-up American values.