Markets
Intel (INTC) is Going into Wearable Computing With Acquisition of Basis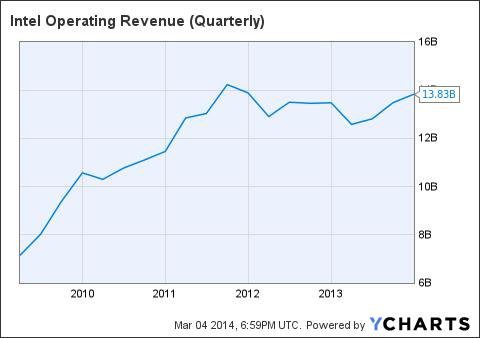 Basis makes wearable health tracker devices such as wristwatches, and it was on sale for the past several months.
Big name tech companies have been eying on buying this company because it has around seven percent market share against its competitor, Jawbone, which has twenty one percent, in the wristwatch health tracking market. Earlier today, sources reported that Intel (NASDAQ:INTC) INTC +2.44% has finally won the "auction" with the highest bid of around US$ 100 – 150 million, and is about to acquire the company once the due procedures are completed.
As the PC industry is facing a massive decline in the popularity desktops, chip maker Intel has been talking about altering its market strategy and going heavily into wearable computing segments, which is the next big wave after Smartphones and Tablets.
At CES 2014, Intel made several references to going into wearable computing segments, including showing off Jarvis – the Siri like Bluetooth gear, and Edition – the smart chip. Intel is a chip maker, and is the largest in the world to be precise.  If it wants to kick start making wearable computing devices that will require a heavy green field investment, buying Basis for a mere US$ 100 million will give Intel a foothold in this segment, as the team behind Basis has built the most powerful and broad featured wearable computer.
Currently, the wearable market depends heavily on sensors supplied by Qualcomm (NASDAQ:QCOM) QCOM +2.92%, Texas Instruments (NASDAQ:TXN) TXN +0.07%, and STMicroelectronics (NYSE:STM) STM +1.57%. If Intel (NASDAQ:INTC) INTC +2.44% wants to sell chips, it needs to offer a complete wearable platform to manufacturers, because simply selling sensors will expose it to the competition. Buying Basis will offer Intel a chance to get its hand on the complete package to create that wearable platform. Although Basis Health Tracker Watch is the only product from this company, it has the necessary foundations that Intel can use to further its ambitions.
Although Intel's quarterly revenue has finally rebounded during the last quarter of 2014 to US$ 13.83 billion, concerns over its future is still valid, as sales of chips for larger systems used in the corporate sector was weaker than previously expected.
Buying Basis and offering a complete package of wearable computing products to other brands will be considered a good move by analysts for the chip giant, Intel, as it will help the company diversify revenue sources.